Substance Abuse Statistics in Missoula, MT
Similarly to the rest of the country, Missoula has been impacted by the misuse of drugs and alcohol. Here are some statistics about alcohol and drug abuse in Missoula County:1, 2, 3
32
In 2019, 32 individuals aged 12-17 reported methamphetamine use.
11
There were 11 drug overdose deaths in Missoula County in 2021.
36%
36% of motor vehicle deaths involved alcohol impairment.
2,300
It is estimated that 2,300 residents in Missoula County need alcohol and drug rehab services.
Levels of Substance Abuse Treatment
Various rehab settings and levels of care are available to meet your needs.
Professional Drug Detoxification
Drug and alcohol withdrawal symptoms can be extremely painful and even potentially life-threatening, which is why detox is so important. The detox team can monitor you for complications and provide you with medications and treatment to increase your comfort and safety.
Residential Rehab
Also called partial hospitalization programs (PHPs), these are a great compromise for someone who needs a high level of care but wants to continue living at home. You receive up to 30 hours of treatment per week.
Day Treatment Programs
Also called partial hospitalization programs (PHPs), these are a great compromise for someone who needs a high level of care but wants to continue living at home. You receive up to 30 hours of treatment per week.
Intensive Outpatient Programs (IOPs)
A step down from partial hospitalization, intensive outpatient programs provide a few hours of treatment for a few days per week, including inpatient and group therapy. Many people transition into an IOP after they have completed a residential or PHP program.
Standard Outpatient
The least intensive and structured option, you live at home and commute to the treatment center or a therapist's office for a few hours each week.
Aftercare
Near the end of rehab, you'll work with your treatment team to create an aftercare plan to provide you with the support you need to avoid relapse in the long run.
Financing Drug and Alcohol Rehab in Missoula
Here are some strategies for paying for alcohol and drug rehab.
Health Insurance
Health insurance providers are required to provide some form of coverage for mental health and substance abuse treatment services, including drug rehab. Contact your provider to learn more about your specific plan.
Montana Medicaid
Montana Medicaid, which provides health coverage to low-income pregnant people and families, covers services like medication-assisted treatment, inpatient rehab, and outpatient rehab.
Montana Medicare
You can use Montana Medicare to cover behavioral health and mental health treatment, including drug rehab and alcohol rehab, as well as screening and assessments.
TRICARE in Montana
Montana is in the West Region for TRICARE and people with this government program can use it to pay for addiction treatment services and therapies.
Publicly Funded and Free Drug Rehab in Missoula
Free rehab programs and state-funded rehabs are able to offer affordable and no-cost treatment to people who cannot afford care.
Sliding Scale Payments
Sliding scale rehabs are able to offer inexpensive treatment to people without insurance and who cannot otherwise pay for rehab.
IHS-Funded Drug Rehabs
Drug treatment centers that receive funding from the Indian Health Service offer free addiction treatment to Indigenous individuals in Montana.
Everything You Need to Know About Missoula, MT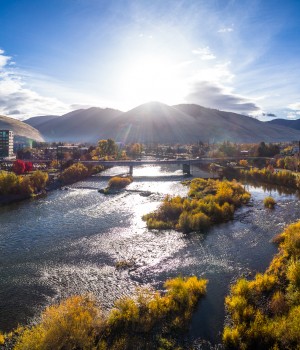 If you are just starting your search for addiction treatment, you may also be wondering whether you should attend one of the many Missoula drug or alcohol rehabs. Whether you are considering drug rehab in Missoula or are supporting a loved one in Missoula alcohol rehab, here are some tips to help you navigate the city:
Missoula can be reached from the Missoula International Airport which is approximately five miles away from the city.
Since Missoula is the second largest city in Montana, a wide range of accommodations can fit any budget.
Missoula public transportation is served by the Mountain Line, and it is a very bike-friendly city. If you don't prefer biking, you may want to arrange for your own transportation before you arrive.
Garnet Ghost Town is just under an hour's drive away from the city.
Missoula's downtown area features fun dining, shopping, and the beautiful Caras Park.
Missoula has many attractions, like the Missoula Art Museum and the Montana Natural History Center.
Clark River runs right through the heart of the city.
You will find plenty of opportunities to enjoy nature with the Mount Jumbo North Peak Trail and the Beavertail Hill State Park.
You can follow the path taken by the early explorers Lewis and Clark on US Highway 12.
Montana Drug and Alcohol Laws
Below are some relevant Montana laws related to substance misuse::1
Family and Medical Leave Act (FMLA): This law requires companies with over 50 employees to offer at least 12 weeks of unpaid leave to those who need medical care, such as drug rehab.
The Help Save Lives from Overdose Act: This act allows pharmacists to provide naloxone kits to those who know someone at risk of an opioid overdose, as well as harm reduction organizations, first responders, and county health officials.
Montana Good Samaritan Overdose Law: Witnesses to a drug overdose receive limited immunity from drug possession arrest and prosecution for calling 911. This encourages people to reach out for medical help, which can save lives.