Substance Abuse Statistics in Missoula, MT
Similarly to the rest of the country, Missoula has been impacted by the misuse of drugs and alcohol. Here are some statistics about alcohol and drug abuse in Missoula County:1, 2, 3
32
In 2019, 32 individuals aged 12-17 reported methamphetamine use.
11
There were 11 drug overdose deaths in Missoula County in 2021.
36%
36% of motor vehicle deaths involved alcohol impairment.
2,300
It is estimated that 2,300 residents in Missoula County need alcohol and drug rehab services.
Everything You Need to Know About Missoula, MT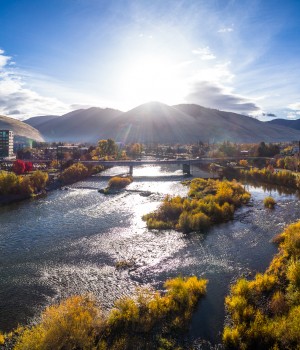 If you are just starting your search for addiction treatment, you may also be wondering whether you should attend one of the many Missoula drug or alcohol rehabs. Whether you are considering drug rehab in Missoula or are supporting a loved one in Missoula alcohol rehab, here are some tips to help you navigate the city:
Missoula can be reached from the Missoula International Airport which is approximately five miles away from the city.
Since Missoula is the second largest city in Montana, a wide range of accommodations can fit any budget.
Missoula public transportation is served by the Mountain Line, and it is a very bike-friendly city. If you don't prefer biking, you may want to arrange for your own transportation before you arrive.
Garnet Ghost Town is just under an hour's drive away from the city.
Missoula's downtown area features fun dining, shopping, and the beautiful Caras Park.
Missoula has many attractions, like the Missoula Art Museum and the Montana Natural History Center.
Clark River runs right through the heart of the city.
You will find plenty of opportunities to enjoy nature with the Mount Jumbo North Peak Trail and the Beavertail Hill State Park.
You can follow the path taken by the early explorers Lewis and Clark on US Highway 12.
Resources
Missoula Substance Use Disorder Connect. (2021). Needs Assessment of the Missoula County Substance Use Care System.
University of Wisconsin Population Health Institute. (2022). County Health Rankings and Roadmaps:Montana-Missoula.
Montana Medical Examiner's Office. (2021). 2021 Medical Examiner's Report.