Alcohol and Drug Use Statistics in Gulfport
Recent results of 2020 surveys reveal Harrison County is in the top three Mississippi locations with the biggest substance use problems.  It is the county with the third largest number of overdoses, just below Jackson and Hinds.1 The statistics below show Gulfport and the surrounding areas facing a huge battle.
1,620
1,620 emergency room overdoses for all drugs1
281
281 Naloxone administrations by emergency medical staff1
73
73 adults hospitalized for substance use disorders2
47.7%
47.7% of adults report misusing alcohol in the last 30 days2
Levels of Substance Abuse Care
Several different levels of addiction treatment are available, each with its pros and cons.
Drug Detox
Professional detox is a great way to jumpstart your recovery journey. You receive medical care and withdrawal medications to prevent complications and mitigate your withdrawal symptoms.
Inpatient Drug and Alcohol Rehab
Also known as day treatment, PHPs are a great option for someone who wants the structure and high frequency of care that an inpatient offers but still wants to live at home.
Partial hospitalization programs (PHPs)
IOPs are good for people with a moderate addiction to begin the recovery process and they are also commonly used as step-down care for someone who has completed residential or PHP.
Intensive Outpatient Programs (IOPs)
IOPs are good for people with a moderate addiction to begin the recovery process and they are also commonly used as step-down care for someone who has completed residential or PHP.
Standard Outpatient
Standard outpatient is most commonly used as step-down care after someone has completed a more intensive treatment program. This is because standard outpatient care only involves a few hours of therapy per week.
Aftercare
Once you complete drug and alcohol rehab, you'll want to receive relapse prevention services, such as support meetings, transitional housing, or ongoing therapy.
How to Pay for Drug Rehab in Gulfport
No matter your situation, drug and alcohol rehab is available to you. Learn how to finance treatment.
Private Insurance
Whether you purchased insurance from the Healthcare Marketplace or have benefits through employment, your private insurance plan can cover some of the cost of alcohol and drug addiction treatment, including inpatient and outpatient. Your specific coverage depends on the details of your plan.
Mississippi Medicaid
Mississippi Medicaid can be used to cover the cost of addiction treatment services, like prescription medications, inpatient rehab, PHP, IOP, and more.
Mississippi Medicare
Mississippi Medicare can also be used to pay for drug and alcohol treatment services for those who qualify for this government health program.
Sliding Scale Rehabs
Beyond free rehabs, there are also sliding scale treatment facilities, which charge you what you can reasonably afford based on your income.
TRICARE in Mississippi
TRICARE provides health insurance to U.S. military members, retirees, and their dependents, and people with this federal insurance program can use it to pay for drug and alcohol rehab.
IHS-Funded Drug Rehabs
Indigenous people can receive free addiction treatment from programs funded by the Indian Health Service, even if they have health insurance.
Although Gulfport has its share of drug and alcohol misuse, it also has numerous treatment opportunities in drug and alcohol rehabs in Harrison County. The coast can be a great place to get a fresh start in recovery.
Leaders of drug rehabs in Gulfport and Harrison County are also working hard to resolve these issues. They are expanding drug and alcohol rehabs in Harrison County at low or no cost to ensure everyone can receive the help they need. Mississippi state grants help cover inpatient and outpatient Gulfport drug rehab costs.
Traveling to and Within Gulfport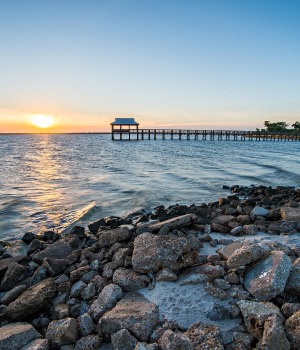 Gulfport is a tourist town with a deep history dating back to indigenous groups such as the Choctaw. Today Gulfport is home to over 70,000 residents.
Whether you are planning to enter a Gulfport drug rehab or visit with a loved one receiving treatment, Gulfport is easily accessible. The following transportation options exist in Harrison County:3
Gulfport-Biloxi International Airport is five miles from the center of Gulfport
Highways 90, 40, and I10 are major roadways with quick access to Alabama and Louisiana
Private transportation options include
Taxis
Rental cars
Limousine services
Shuttles
Buses
Uber and Lyft
Coast Transit Authority has affordable public transportation bus routes
Searching for a place to stay in Gulfport is easy, and with the following options:
Lodging options include
Hotels and motels
Cottage rentals
Beach resorts
Bed & Breakfasts and Inns
Air BnB and VRBO
RV parks and campgrounds
You can fill your spare time with activities that support recovery, including:
Museums
Off-shore fishing
Boutique shopping
Golfing
Boat excursions
Adventure parks
Wellness spas
Concerts and festivals
Historical tours
Support groups like AA, NA, and Alateen
Mississippi Drug and Alcohol Laws
Here are some relevant drug and alcohol laws in Mississippi:1
Mississippi Good Samaritan Overdose Law: This life-saving law encourages a witness to an overdose to call 911 by protecting them from prosecution for drug possession.
Mississippi Naloxone Access Law: Residents can obtain naloxone (Narcan) from pharmacies without a prescription.