Alcohol and Drug Use Statistics in Lynn
Drug and alcohol misuse is a concern in Lynn. Here's a breakdown of the statistics for both Lynn and Essex County:2,3,4,5,6

446
Lynn had 446 opioid-related EMS incidents in 2020 and 526 in 2021. An opioid incident is defined as a 911 call in which opioids are involved.
2,214
Between June 2017 and July 2018, 2,214 people in Lynn entered treatment for a substance use disorder.
26%
Between 2016 and 2020, 26% of the 172 driving deaths in Essex County involved alcohol.
Paying for Alcohol and Drug Treatment in Lynn, MA
When deciding how to pay for a licensed drug rehab or alcohol rehab, it's vital to look at all your options to find the best fit. In Massachusetts, there is the "No Wrong Pathway." This policy means that no matter where you go for help or at what point you are in your recovery, you should receive treatment.
A state-funded rehab offers free services to people who do not have another way to pay for addiction treatment. The Department of Public Health and the Bureau of Substance Addiction Services funds treatment services for Massachusetts residents without healthcare coverage. This includes methadone clinics that focus on detoxification from opioid addiction.
You can also find grand-funded drug and alcohol rehabs in Lynn. These licensed facilities receive funding from state and federal grants to help cover costs for those who qualify. Some facilities also offer rehab scholarships to help pay for treatment.
Lynn has the following free drug or alcohol rehabs:
Lahey Health Behavioral Services – The Ryan House
VA Bedford Healthcare System – Lynn VA Clinic
Private Insurance, Medicaid, Medicare
Insurance can also be used to pay for a Lynn drug rehab or alcohol rehab. This can include federal or state-funded health insurance such as Medicaid or Medicare or private insurance.
In Massachusetts, Medicaid and the Children's Health Insurance Program (CHIP) are combined into one program called MassHealth. The basic requirements for coverage include:7
Massachusetts residency
Low income
Verified citizenship or satisfactory immigration status
There are other types of MassHealth coverage for people who meet one of the following:7
Parent or adult caretaker living with children younger than 19 years old
An adult between the ages of 21 and 64 years old
Pregnant
Disabled
Younger than 19
Between the ages of 19 and 20
HIV-positive
Breast or cervical cancer patient
Medicare is also an option to pay for addiction treatment. This federal healthcare program is mainly for seniors. You're eligible if you're 65 or older or have a disability or certain health conditions. To use Medicaid or Medicare to pay for addiction treatment, you'll need to find a rehab in Lynn that accepts it.
If you're using private insurance, it's important to verify your coverage with your provider. Calling the number on the back of your card will confirm what type of addiction treatment is covered and what rehabs are in-network. Popular insurance plans in Massachusetts include Tufts Health Plan, Harvard Pilgrim Health Care, and Blue Cross Blue Shield of Massachusetts.
How Easy Is it to Travel to and Within Lynn?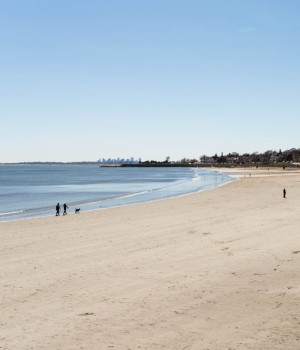 Lynn's picturesque seaside location makes it a desirable destination for people considering Lynn for addiction treatment or visiting someone already attending rehab there.
The closest airport to Lynn is Boston's Logan International Airport. It's just a short 5 miles south of Lynn. You can also reach Lynn using the MBTA Commuter Rail system. While you're in town, MBTA bus routes can connect you to Boston and other nearby communities.
There's no shortage of outdoor activities. Lynn is known for its coastline and has three beaches situated next to each other. After a day at the beach, you can check out the Lynn Woods Reservation, designed by Frederick Law Olmsted, who also designed Central Park in New York. The city has 49 parks representing about 22% of the city's total land area.
When it's time to head indoors, you can visit the Downtown Lynn Cultural District. This specially designated downtown area features art, music, dance, live theater, and restaurants.
Due to its proximity to downtown Boston, you can pick many hotel options encompassing all budgets.