Alcohol and Drug Use Statistics in Framingham, MA
Getting help for an opioid or other addiction is the obvious way to prevent an overdose and get your life back on track. While getting treatment is easier said than done, not getting treatment turns into the following Framingham and Middlesex County statistics:2,3
3,140
Between 2010 and 2021, Middlesex County had a total of 3,140 opioid-related deaths, making it the highest-ranking county for opioid fatalities among 13 other nearby counties.
Levels of Substance Abuse Care
Several levels of care are available for addiction treatment, based on types of needs.
Alcohol and Drug Detoxification
Detox occurs under medical supervision at a hospital, residential, or outpatient facility. It is the process of safely and comfortably removing drugs or alcohol from your system. Once detox is complete, you can transition to the next step of treatment.
Inpatient Drug and Alcohol Rehab
Inpatient or residential treatment involves staying at the rehab facility to receive 24/7 supervised care. Treatment interventions in this setting typically include individual and group therapy, recreational therapy, nutritional counseling, and medication.
Partial hospitalization programs (PHPs)
Massachusetts residents who participate in a PHP live at home while receiving treatment services at a hospital. Treatment often includes many of the same methods as inpatient care, but you return home during non-treatment hours.
Intensive Outpatient Programs (IOPs)
IOPs allow Massachusetts residents to attend counseling sessions several days a week while spending the rest of their time at home, at work, or fulfilling other obligations.
Standard Outpatient
Standard outpatient care is the least intensive treatment option. It involves one to two hours of treatment per week. Highly motivated people with a strong support system are good candidates for this level of treatment.
Relapse Prevention
Also called aftercare, relapse prevention is for Massachusetts residents who have completed a rehab program. It includes ongoing support such as 12-step groups, SMART recovery, and therapy.
How to Pay for Substance Addiction Treatment in Framingham, Massachusetts
Private Insurance
Every insurance provider is required by law to cover substance abuse and mental health treatment services to some extent. Contact your provider to learn about the specific coverage they offer, which varies by company.
Massachusetts Medicaid
In Massachusetts, Medicaid and the Children's Health Insurance Program (CHIP) are rolled into one program, called MassHealth. MassHealth members may be able to cover the cost of rehabilitation treatment services through this government-funded program. Massachusetts residents must apply for benefits, and the treatment provider must accept MassHealth as a method of payment.
Massachusetts Medicare
Massachusetts Medicare is a program funded by the government to provide coverage for Massachusetts residents who are 65 or older, have been on Social Security Disability Insurance for two years, or have end-stage renal disease or Lou Gehrig's disease. Medicare covers the cost of addiction treatment services; however, some rehab facilities don't accept Medicare methods of payment, so always check before enrolling in treatment.
Sliding Scale Rehabs
Sliding scale rehab programs charge fees based on income, so you only pay what you can reasonably afford. To qualify for sliding scale rehab in Massachusetts, you may have to provide proof of income.
TRICARE in Massachusetts
Massachusetts TRICARE (North region) is a program funded by the government to provide health insurance coverage for military personnel, veterans, and their families. TRICARE covers addiction treatment services for these individuals.
IHS-Funded Drug Rehabs
Indian Health Services drug rehabs offer addiction treatment free of charge for Indigenous people and Alaskan Natives. This coverage is provided even if other insurance is available.
Traveling to and Within Framingham, Massachusetts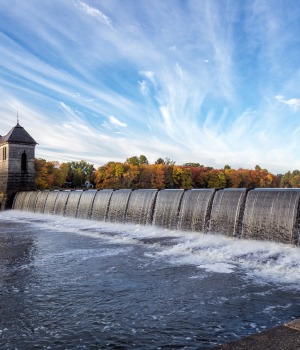 Whether you're thinking about getting inpatient or outpatient treatment at one of the Framingham drug rehabs or Framingham alcohol rehabs or are planning to visit a loved one currently in a Framingham treatment center, you'll need to know how to get around and more.
Here are some Framingham travel tips:
The closest major airport to Framingham is the Boston International Airport (BOS), which is roughly a 21-mile distance.
The Metro West Regional Transit Authority (MWTRA) provides public transportation via 12 different bus routes connecting to the entire MetroWest community, which includes Framingham.
Rideshares such as Uber and Lyft and traditional taxis, car services, and rental options are also widely available throughout the city.
There are dozens of hotels in and near Framingham to accommodate all types of budgets. This includes luxury hotels, modest hotels, motels, and Airbnb.
There are plenty of indoor and outdoor activities to experience in Framingham. This includes the Garden in the Woods, Cochituate State Park, Danforth Art Museum, Sunbrella IMAX theater, restaurants, shopping, and more.
Framingham is a reasonably walkable city. However, it follows a mostly World War II-dominated pattern which makes it more car-necessary when it comes to getting around.
Framingham is considered a very safe city. However, crime does still happen. Always be aware of your surroundings and never wander off alone in certain neighborhoods.
Massachusetts Alcohol and Drug Laws
Policy makers in Massachusetts have enacted the following laws related to alcohol and drug use and possession:1,2,3,4,5
9-1-1 Good Samaritan Law: Passed in Massachusetts in 2012, this law states that anyone who calls 9-1-1 for an overdose emergency will not be charged with possession of a controlled substance. The policy was created to encourage people to get emergency help during overdose situations.
Naloxone Standing Order: The Massachusetts Act for Prevention and Access to Appropriate Care and Treatment of Addiction allows pharmacies to dispense Naloxone, without a prescription, to anyone at risk of opioid overdose and to others who are in a position to assist those at risk.
Marijuana Decriminalization: As of 2016, recreational use of marijuana is legal in Massachusetts for adults 21 years and older. Adults can have up to one ounce on their person and 10 ounces in their home, but any amount over one ounce must be kept locked up, and marijuana cannot be used in public or on federal property. Residents of Massachusetts can also grow up to six cannabis plants for single-adult households or 12 plants for larger households.
Zero Tolerance Law: In Massachusetts, the legal BAC for drivers under 21 years of age is 0.02% instead of 0.08%. Violation of this law can result in up to three years of license suspension, 2.5 years in prison, up to $5,000 in fines, and a suspended license.
Drug Classes: To establish criminal penalties for violation of drug law, Massachusetts has established five classes of controlled substances. Class A includes opioids. Class B includes cocaine. Class C includes some narcotics. Class D includes marijuana. Class E includes narcotics that contain additional substances.