Alcohol and Drug Use Statistics in Portland, ME
The following statistics illustrate the extent and impact of overdose and substance abuse in Cumberland County:1, 2

2%
About 2% of residents 12 and older used cocaine in the past year from 2016 to 2018.
66%
About 66% of residents 12 and older used alcohol in the past month, from 2016 to 2018.
24%
About 24% of residents 12 and older binged on alcohol in the past month from 2016 to 2018.
3%
About 3% of residents 12 and older misused pain relievers in the past year from 2016 to 2018.
Drug and Alcohol Addiction Treatment Levels
Learn more about the various treatment settings and levels to figure out which one might work for you and your needs.
Medical Detox
Formal detox treatment involves support from a treatment team, withdrawal medications, and supportive care so that you can withdraw comfortably and safely before transitioning into addiction treatment.
Inpatient Care
Ranging from 30 to 90 days, inpatient rehab is the most structured option, giving you the opportunity to recover in a serene and peaceful environment away from stressors and triggers.
Partial hospitalization programs (PHPs)
You reside at home while attending up to 30 hours of addiction therapy per week. People sometimes step down from inpatient care to a PHP.
Intensive Outpatient Programs (IOPs)
You live at home and travel to a treatment center for up to 20 hours of treatment per week. When making their way through the continuum of care, someone may go from inpatient to PHP to an IOP.
Standard Outpatient
The least intensive option, you receive a few hours of counseling per week. This may be on an ongoing basis.
Relapse Prevention
Once you complete treatment, you'll want to continue receiving support, such as 12-step meetings, non-12-step meetings, therapy, and sober living homes.
How to Finance Substance Addiction Treatment in Maine
Don't let the price of addiction treatment deter you from getting the help you need. There are many different ways to pay for drug rehab.
Private Insurance
You can use your health insurance to help mitigate the cost of addiction treatment. Depending on your plan and provider, you may receive partial or even full coverage.
MaineCare: Maine Medicaid
MaineCare is Maine's Medicaid program, which provides health insurance to low-income families and individuals. MaineCare covers the cost of addiction treatment, either partially or in full.
Maine Medicare
Maine Medicare is a government program providing coverage for people over the age of 65 and those with end-stage renal disease, as well as some other medical conditions. Maine Medicare covers substance abuse treatment, such as inpatient or outpatient care.
Sliding Scale Payment Options
Sliding scale rehabs are able to offer treatment at a reduced rate, depending on the patient's income.
TRICARE in Maine
Maine TRICARE, which is located in the East Region, is a government health insurance program for military personnel and veterans. TRICARE covers drug and alcohol rehab on both an inpatient and outpatient basis, although you will have to contact TRICARE to learn to what extent.
IHS-Funded Drug Rehabs
Rehabs funded by the Indian Health Service offer free addiction treatment to Native peoples who need it.
Traveling to and Within Maine, ME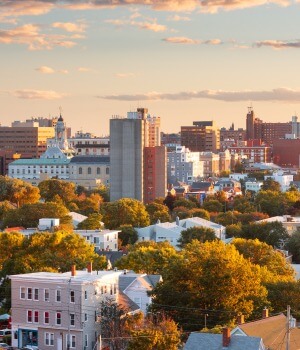 The following tips may be useful to guide your plans for rehab in Portland, Maine, or for visiting a loved one receiving treatment in Portland.
Fun activities in Portland, ME, include hiking and climbing in the state and national parks, sea kayaking, or paddle boarding along the coastal waterways, biking on the scenic routes, and camping under the stars.
The best option for flying in and out of Portland is Portland International Jetport. You can choose from multiple airlines that serve this airport, including JetBlue, American Airlines, United Airlines, and Southwest Airlines.
Bangor International Airport is an alternative for flights; however, it is almost a two-hour drive from Portland.
Some neighborhoods, such as downtown, are walkable, and you do not need a car to run errands in those neighborhoods.
Travel options within Portland include bus and shared rides such as Lyft and Uber.
Greater Portland METRO offers bus services within the area and has stops close to shopping centers, eateries, and hotels.
Local trips between Westbrook, Falmouth, South Portland, Gorham, and Portland cost $2 one-way, whereas the express bus costs $4 for travel between Brunswick, Portland, Freeport, and Yarmouth.
Options for travel down the coast include Amtrak's Downeaster, which goes from Brunswick to Boston with several stops in between, including Freeport, Portland, Dover, Durham, and Woburn.
Places to stay during rehab in Portland, Maine, or when visiting a friend or family member in rehab include hotels, motels, inns, and Airbnb.
Maine Substance Misuse and Overdose Laws
Here are some substance misuse and overdose laws in the state of Maine::1
Maine Drug Treatment Courts: Residents who are arrested for drug-related crimes may attend court-ordered drug rehab instead of serving jail time.
Maine Naloxone Access Law: Pharmacists in Maine can dispense naloxone (Narcan) to those without a prescription.
Maine Good Samaritan Overdose Law: If you call 911 to help someone who is experiencing an overdose, you are protected from prosecution for drug-related crimes as long as you don't have the intent to distribute.