Alcohol and Drug Use Statistics in Dubuque, Iowa
The city of Dubuque and government agencies have noticed a rising trend in problems caused by drug addiction and alcoholism:1,2,3

60%
Men are more at-risk of drug-induced death in Dubuque, making up 60% of drug overdoses
36.1
Illicit drugs and alcoholism are only part of the problem — 36.1 per 100 residents in the county were prescribed highly addictive opiate medications in 2020
Levels of Substance Abuse Care
Various levels of substance abuse treatment are available. You'll want to know the different options before choosing a program.
Professional Detox
Drug detox is a set of interventions aimed at managing uncomfortable withdrawal symptoms, helping you to achieve a substance-free and medically-stable state. Detox isn't always necessary, but it is recommended for alcohol, benzo, and opioid addictions.
Inpatient Care
You live at the treatment facility for the entire length of the program, ranging from 30 to 90 days, receiving around-the-clock care, including individual therapy, group therapy, support groups, family therapy, medication (if applicable), and more.
Partial hospitalization programs (PHPs)
You live at home while attending therapy and counseling for several hours each day at a hospital or facility—between 20 and 30 hours per week. This is a great option for those who need a high level of support but don't want to live elsewhere.
Intensive Outpatient Programs (IOPs)
You live at home while receiving therapy and other services in an outpatient setting for anywhere from nine to 20 hours per week.
Standard Outpatient
The least intensive and structured option, you live at home and receive two to four hours of treatment per week. This option may be beneficial for someone with a mild addiction who has a great support system and strong motivation to get sober.
Relapse Prevention
After completing your initial treatment program, you will want to continue with relapse prevention services, such as support groups, ongoing therapy, transitional housing, or some combination of many services.
How to Pay for Addiction Treatment in Iowa
The following are various ways to finance your recovery program:
Private Insurance
If you have private health insurance from the Healthcare Marketplace or through your place of employment, you can use your insurance to cover the cost of drug and alcohol rehab. By law, your provider is required to cover addiction treatment services to the extent they cover medical services. This means they will likely provide partial or full coverage for treatment.
Iowa Medicaid
Iowa Medicaid is a federal health insurance program that provides coverage for low-income people and families who don't have access to private insurance. You can use Iowa Medicaid to cover the cost of drug rehab in Dubuque.
Medicare
Iowa Medicare provides health insurance coverage to people aged 65 and older. Like Medicaid, Medicare covers substance abuse treatment services, such as inpatient and outpatient rehab as well as substance abuse assessments.
TRICARE in Iowa
Iowa is located in the West Region for TRICARE, a government program providing health insurance coverage for military personnel, veterans, and their families. You can use TRICARE to cover the cost of drug and alcohol rehab, making it more accessible.
Sliding Scale Payment Options
If a free rehab is full or has a long waiting list, you can apply to a sliding scale rehab, which only charges you what you can reasonably pay based on your income.
IHS-Funded Drug Rehabs
The Indian Health Services provides funding for some Iowa drug and alcohol rehab centers, making them able to provide free treatment to Indigenous people.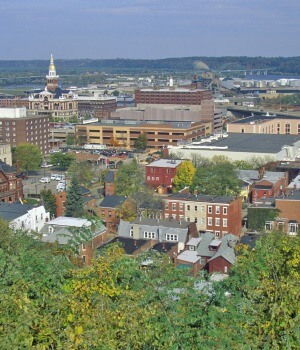 Getting to and Around Dubuque, Iowa
If you're entertaining the idea of visiting or moving to Iowa for rehab, the city of Dubuque is thriving. You'll find it easy to get to and around the city, as well:
DBQ, the Dubuque Regional Airport, has Avelo and Sun Country Airlines providing regular service to nearby areas, and a variety of travel agencies to help arrange your next trip.
If you don't want to drive, you can quickly get around the city on foot or using public transportation, the Jule bus system, which has eight color-coded lines that run six days per week.
Nature lovers can visit places like the National Mississippi River Aquarium and Museum, the outdoor Eagle Point Park, and the Dubuque Arboretum and Botanical Gardens.
Known as "The World's Shortest and Steepest Railroad" and the Fourth Street Elevator, the Fenelon Place Elevator is a historic cable car that offers visitors views of the great Mississippi and three different states.
The city has all the standard amenities, including three post offices, three public libraries, and several community centers, such as the Dubuque Dream Center.
There are numerous higher education institutions in the city, like the University of Dubuque and Clarke University.
Nearby attractions include the Mines of Spain Recreation Area, a historic outdoor space with a castle on a bluff.
Iowa Substance Abuse and Treatment Laws
Iowa has several substance abuse and treatment laws that can help save lives, including:1
Residential Substance Use Disorder Treatment Act of 2021: This act increased access to drug addiction treatment services in prisons and jails and helped people transition to treatment in the community.
Americans with Disabilities Act (ADA): This law includes drug and alcohol addiction as a disability, which means you may be eligible to receive disability benefits.
Code of Iowa Chapter 321J.17: This law requires that Iowa drivers who receive a DUI must undergo a substance misuse assessment.
Iowa Good Samaritan Law: This law encourages witnesses to call 911 in the event of an overdose by protecting them from prosecution for drug possession.