Substance Abuse Statistics in Council Bluffs, Iowa
Being such a populous city that's part of a well-traversed metropolitan area, substance addiction and its subsequent consequences don't come as a surprise for southwestern Iowa. Having said that, let's look at some of the most recent facts and figures for substance use in Pottawattamie County:2

Is it Easy to Travel to and Within Council Bluffs, Iowa?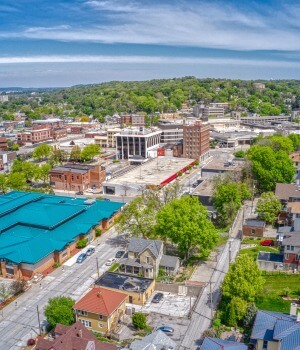 Council Bluffs is known for its casinos and being a part of the transcontinental railroad. For these reasons, you'll often hear Council Bluffs referred to as "Iowa's Leading Edge."
If you're getting ready to start an inpatient or outpatient treatment program in an alcohol or drug rehab in Council Bluffs, you'll need to know a little more about the city. The same is true for those planning to visit a loved one receiving addiction treatment in Council Bluffs.
Here are a few things you should know about traveling to and getting around Council Bluffs:
Eppley Airfield is the closest major airport to Council Bluffs, which is just 9 miles away. The closest major international airport is the Des Moines International Airport, which is roughly 133 miles away.
Council Bluffs has a walkability score of 37, which means only certain areas are walkable, and you'll need to arrange for transportation if you're planning certain activities or are staying more than a mile from the treatment center.
SWITA is southwest Iowa's public transportation system which provides public transport via metro bus. The Omaha Metro Bus System also serves certain areas of Council Bluffs, and you can also opt for an Uber, Lyft, private car service, or rental car if needed.
There are all kinds of hotels in and near Council Bluffs to suit all budgets and needs of visitors. This includes Airbnbs.
Council Bluffs' main attractions include the Union Pacific Railroad Museum, the Lewis and Clark Scenic Overlook, the Pottawattamie County Squirrel Cage Jail and Museum, Harrah's Casino, and Lake Manawa State Park.
Resources
Center for Disease Analysis Foundation and Iowa Department of Public Health, Bureau of HIV, STD, and Hepatitis. (2019, December). Iowa County-level Vulnerability Assessments for Risk of Opioid Overdoses and Rapid Dissemination of HIV and Hepatitis C.
Injury Prevention Research Center. (2017, August 1). The Prescription Opioid Crisis: Policy and Program Recommendations to reduce Opioid Overdose and Deaths in Iowa.