Substance Abuse Statistics in Springfield, IL
Springfield, in the county of Sangamon county, has seen several recent drug and alcohol-related deaths. Here are some statistics about substance abuse in Springfield:2,6,7,8
In the 2016 Illinois Drug Threat Assessment, heroin, prescription opiates, and meth were identified as the top three contributors to the drug problem in Illinois
33% of drug rehab admissions in Illinois were for opiates in 2019, followed by alcohol (29% of admissions) and meth 11% (48,705 total)
Paying for Alcohol and Drug Rehab in Springfield, IL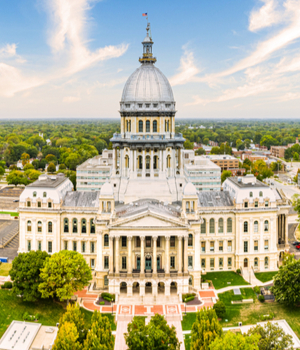 If you need help paying for care at a certified rehab center, some places may offer financing options or financial assistance. For example, rehab scholarships might be available that can pay for all or most of the cost of treatment. These would be reserved for those with the greatest need, so make sure you've exhausted all other options before relying on a rehab scholarship. You can find out about rehab scholarships and other rehab financing options by asking the addiction recovery center you're interested in directly if they have any financial assistance program availability.
Free Drug Rehabs in Springfield
According to the Substance Abuse and Mental Health Services Administration (SAMHSA), there are 12 drug and alcohol rehab centers in Springfield.9 Out of these, six accept Medicaid, four accept Medicare, and one gets block grants from SAMHSA to help provide low-cost rehab services (Family Guidance Centers Inc). Some agencies work to help people access rehab, even if they don't offer rehab services directly, such as:
The Salvation Army
Lutheran Social Services of Illinois
Al-Anon
Medicare and Medicaid for Rehab
If you have a low income, are age 65 or older, or are disabled, you might qualify for these government-subsidized health insurance programs. Medicaid is designed for people who live at or below the federal poverty line, and the qualification process takes into account your annual income and assets as a result.
If you have Medicaid coverage, you can get many rehab services covered, such as therapy, medication, and outpatient care. Medicaid typically does not have associated copayments or deductibles, and prescriptions are also usually free with the program.
Medicare is for adults age 65 and older and those living with disabilities. This program has several parts that pay for different services. Medicare does come with fees, which you can find out about by speaking to a Medicare advocate. To apply for either program, reach out to your local social services office, or dial 211 to reach a social services directory assistant. They'll be able to point you in the right direction for local assistance programs as well as give you referrals to nearby free and low-cost rehabs.
Private Insurance
State and federal laws dictate that health insurance companies must provide coverage for substance use disorder (SUD) treatment if they are covering medically needed services. Different insurance companies in Illinois have their own policies regarding what services are covered and what patients' fees are, so reach out to your insurance provider for detailed information about your coverage and fee schedule.
Many alcohol and drug rehab centers in Springfield accept private health insurance for services, including:
Gateway Foundation
SIU Center for Family Medicine
Personal Counseling Services
Clinical Counseling Group and DUI Providers LLC
Is it Easy to Travel to and Within Springfield, IL?
Transportation: Getting to Springfield is possible via plane, train, or car if you follow the 55 or 72. The Abraham Lincoln Capital Airport is the local domestic airport, and the SMDT (Sangamon Main Transit District) is the public bus system in the area. There is also an Amtrak station in Springfield, with a parking lot and wheelchair-accessible enclosed waiting area.
Hotels: If you need a place to rest while you visit, there are 26 hotels and motels to choose from, and a wealth of affordable housing in the area if you want to stay awhile.
Attractions: There's plenty of fun to be had around town in Springfield. Southwind Park is in the southern part of town and features a small lake, sensory garden, and playground equipment. Springfield is home to 16 other parks and natural recreational areas, as well as eight libraries including the Lincoln Library and Supreme Court Library.
Resources