Alcohol and Drug Use Statistics in Elgin and Kane County
Rates of alcohol and drug use are increasing in Elgin and Kane County, and so are deaths related to an overdose of illicit substances such as heroin, fentanyl, and other opioid drugs. Here are some recent numbers:4,5,6,7
Paying for Addiction Treatment in Elgin, Illinois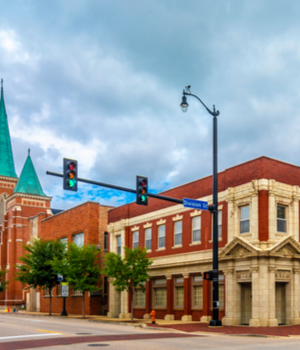 The cost of alcohol and drug rehab can range from completely free to thousands of dollars for an inpatient stay of weeks or months, but insurance, payment plans, and scholarships can cover all or most costs of long-term or short-term care in Elgin drug and alcohol rehabs.
Free rehab can be offered by both state-funded programs and drug rehab centers supported by a variety of non-profit and religious organizations. Some programs are funded by federal or state grants, or by private donations and endowments. To qualify for free rehab services, you'll typically need to show that you're not able to cover the costs of rehab and that you meet the program's criteria for addiction.
If you are wondering, "where can I find a free drug and alcohol rehab?" AMITA Health Saint Joseph Hospital Elgin offers free rehab, and also accepts private insurance and Medicaid.
Private Insurance, Medicare, and Medicaid
Private Insurance
Rehab programs may accept private or government-funded insurance plans to cover most, if not all, of the cost of inpatient or outpatient rehab. The U.S. Mental Health Parity and Addiction Equity Act mandates that insurance plans must cover treatment for addiction in a way that's equivalent to their coverage for medical conditions.
Private rehab centers set their own policies about the kinds of insurance they accept, so you'll need to check with individual programs to be sure that yours is included. Rehabs accepting private insurance in Elgin include:
Braden Counseling Center Elgin
About Change Counseling
Medicare and Medicaid
Government-funded Health Plans Medicare and Medicaid can also cover rehab costs. If you're over 65 or have certain health conditions, Medicare pays 80% of covered services including inpatient and outpatient addiction treatment.8 Medicaid covers rehab, medications, and therapy for those with low income or certain disabilities.9 Elgin drug and alcohol rehabs accepting Medicaid include:
LSSI Addiction Center
Mathers Recovery Elgin
Elgin, Illinois Local Information: Getting There and Getting Around
If you're considering addiction treatment in Elgin, or if you're supporting a loved one who's doing so, you may want to know a bit more about the city and the amenities it offers.
Getting There: Elgin is located just 45 minutes from downtown Chicago, and 30 minutes from O'Hare airport. The two cities are connected by Metra train, and in Elgin itself, the Pace bus service operates multiple routes to locations throughout the city. If you're driving to Elgin from the east or west, the city is easily accessible via Interstate 90. From the north or south, access I-90 via Illinois Routes 25, 31, or 47.
Accommodations: Elgin offers hotel and motel options for every budget, including leading nationwide chains such as Holiday Inn, Quality Inn, and Super 8 Motels, as well as extended stay accommodations from Elgin's own West Dundee Hotel.

Getting Around: Elgin calls itself "the city in the suburbs," thanks to its proximity to Chicago, less than 40 miles away. With just a short car, train, or bus trip, Elgin's residents and visitors can enjoy the attractions of the big city.

Attractions: The city is divided by the Fox River, with part of the city located in Kane County and part in Chicago's Cook County. The Fox River Valley is home to a long list of nature trails and forest preserves, with plenty of opportunities for hiking, biking, and bird watching. The Elgin area includes the Jelke Creek Bird Sanctuary, and Muirhead Springs Forest Preserve, as well as numerous city parks and playgrounds.

Resources