Substance Abuse and Overdose Statistics in Coeur d'Alene, ID
The Idaho Department of Health & Welfare released the following statistics on drug use in Kootenai County. Also included is a breakdown of alcohol misuse in the county and Coeur D'Alene:3,4,5

27%
DUI arrests in Coeur d'Alene were up 27% between 2020 and 2021, and drug arrests were up 11%.
35%
Between 2016 and 2020, 35% of fatal car accidents in the county involved alcohol, which is slightly higher than the state rate.
Levels of Substance Abuse Treatment
Once you decide to attend drug and alcohol rehab, you'll want to choose the appropriate level for you.
Alcohol and Drug Detox
If you are dependent on substances like alcohol, sedatives, or opioids, you may want to consider going to detox before starting treatment. During detox, a treatment team monitors you and keeps you safe, provides you with supportive medical care, and administers withdrawal medications to mitigate distressing symptoms.
Residential Drug Rehab
You live at the treatment facility for the entire length of treatment, typically a month to three months, and receive individualized treatment planning that may include many different therapies and interventions.
Partial Hospitalization Programs (PHPs)
You live at home while attending therapy for up to 30 hours per week in a hospital setting or clinic.
Intensive Outpatient Programs (IOPs)
You reside at home while attending counseling for anywhere from nine to 20 hours per week.
Standard Outpatient
You live at home while attending therapy for a few hours per week.
Aftercare
After you complete a rehab program, it's important that you receive ongoing support, such as through NA, AA, SMART Recovery, sober living homes, continuing care, and beyond.
How to Pay for Drug and Alcohol Rehab in Coeur d'Alene
You can pay for drug rehab in several different ways.
Private Insurance
If you have private health insurance, you can use your insurance to cover some or all of the cost of drug and alcohol rehab.
Idaho Medicaid
Idaho Medicaid covers substance abuse treatment services, including inpatient and outpatient rehab, as well as addiction treatment medications.
Idaho Medicare
Idaho Medicare covers drug addiction treatment services, such as assessments, medication-assisted treatment, and inpatient and outpatient.
TRICARE in Idaho
Idaho Medicare covers drug addiction treatment services, such as assessments, medication-assisted treatment, and inpatient and outpatient.
Sliding Scale Payments
Much like state-funded rehabs, sliding scale rehabs increase access to treatment by only charging what a patient can afford to pay.
IHS-Funded Drug Rehabs
Indigenous people struggling with addiction can receive free substance abuse treatment at drug rehabs funded by the Indian Health Service.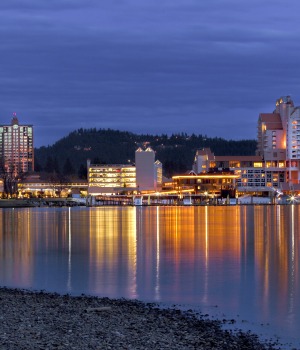 Traveling to and Within Coeur d'Alene, ID
If you are thinking about getting addiction treatment at a Coeur d'Alene alcohol or drug rehab or will be in the city to see a friend or family member who is in rehab there, here is some helpful information about the area.
The city is known for its natural beauty and is located on the north shore of Lake Coeur d'Alene and is west of the Coeur d'Alene Mountains.
The closest major airport to Coeur d'Alene is Spokane International Airport in nearby Washington.
Coeur d'Alene is not considered a walkable city, and you'll need a car or take public transportation to get around.
Free public bus service is available in the city through Citylink. The bus system has four routes serving all parts of the city and county.
Coeur d'Alene area has a thriving arts scene. You can check out symphony and theater productions as well as art galleries in the downtown area along Sherman Avenue.
The Museum of North Idaho, located in downtown Coeur d'Alene, details the region's history and offers walking tours of the old Fort Sherman grounds.
Coeur d'Alene has become a destination for golf fans. The city has five golf courses, with another eight within 20 miles.
Many people choose to come to the city for its natural beauty. Tubbs Hill is a 120-acre park featuring rugged trails that provide views of the lake and the city. City Park is located along the lakeshore and features a beach, beach volleyball courts, and basketball courts. The North Idaho Centennial Trail also passes through the city.
There is a wide variety of hotel options in Coeur d'Alene, from boutique resorts to national chain options.
Drug and Alcohol Laws in Idaho
Below are some important drug and alcohol laws to know in Idaho:1
Idaho Good Samaritan Overdose Law: Bystanders who call 911 when someone experiences an overdose are protected from prosecution for drug possession; this encourages witnesses to seek timely medical help, which can save lives.
Idaho Naloxone Standing Order: Idaho residents can obtain naloxone (Narcan) at a pharmacy without a prescription, and those with Medicaid can get free naloxone from specific pharmacies.
Idaho Drug Treatment Courts; Non-violent offenders with a drug or alcohol addiction may be able to attend drug addiction treatment instead of serving jail time.