Alcohol and Drug Abuse Stats in Athens, Georgia
Some of the most recent statistics involving opioid use, overdoses, and treatment in Athens and Clarke County include:1
Paying for Alcohol and Drug Rehab in Athens, Georgia
Treatment program costs are often a deciding factor in whether an individual attends rehab and therapy. While long-term treatment can become costly, paying for alcohol and drug rehab in Athens, Georgia shouldn't get in the way of receiving quality care from a licensed professional.
What most people don't know is that there are plenty of options for all income levels, especially for Athens' drug rehabs:

Medicaid
Medicaid is a federal program that offers health coverage to low-income individuals and families. However, are some exceptions when it comes to who can and cannot receive coverage.5 You also must meet the program's eligibility requirements, which include proof that your income level is below the federal poverty line and that you're a legal resident of the state you'll be attending rehab.5

Medicare
Medicare provides health insurance to people over 65 and those with certain disabilities. Medicare covers various substance abuse treatment services and prevention.
Private Insurance
Having health insurance coverage is one of the best ways to make treatment and recovery more affordable. Virtually all health insurance providers include behavioral health benefits, and all drug rehab centers accept private health insurance. However, you'll want to get in touch with your provider to discuss exactly what is covered and you'll need to make sure that your intended facility is in-network with your provider.
Sliding Scale Rehab Program: State-funded drug rehab centers offer either free or low-cost care for individuals without any other financial options. Depending on the facility, you may be offered free care, special financing plans, rehab scholarships, and so on. This covers most types of treatment, including inpatient care, outpatient care, and even methadone clinics that provide medication for opioid substance use treatment.
Some free drug and alcohol rehab options in Athens, Georgia include:
Family Counseling Services, Inc.
Advantage Women's Services
Overlook at Hancock Village
Advantage Pavilion for Behavioral Health
The Athens Clinic
How Easy Is it to Travel to and Within Athens, Georgia?
Attractions and Sights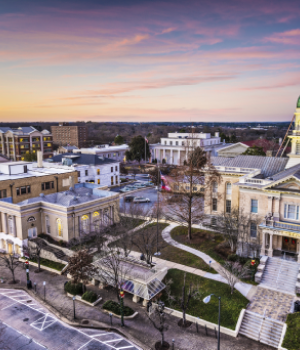 Athens, Georgia—officially known as Athens-Clarke County—is both a consolidated city and college town. It's also just 70 miles east of downtown Atlanta. One of the most unique things about the city is its friendly small-town vibe. It also has a thriving art and music scene and a very diverse and sophisticated selection of restaurants.
You'll also find that there are plenty of attractions to visit here, including heritage sites such as Georgia's Antebellum Trail, a state botanical garden, and even a tree that "owns itself."4 To complement the tourist attractions, the city also has plenty of outdoor activities, such as parks, hiking trails, and much more.
Transportation Within Athens
It should be noted that aside from its downtown area, Athens is mostly a car-dependent city. This means you'll either need to rent a car or utilize the Athens-Clarke County Transit services, which are mostly buses. There is no direct-passenger rail service in Atlanta, however, you shouldn't have a problem finding rideshare services throughout the city if necessary.
There are also three major airports closest to Athens, including:
Atlanta (ATL) Airport, which is 65.5 miles away from the city
Greenville/Spartanburg (GSP) Airport, which is 92.8 miles away
Asheville (AVL) Airport, which is 113.1 miles away
Even with Atlanta (ATL) being the closest airport, it's still roughly a two-hour drive to get into the city by car.
Hotels and Motels
Lastly, your options for hotels, motels, bed and breakfasts, and Airbnb in Athens, Georgia are endless. There's something to suit all budget levels and durations. Of course, if you're planning to visit a loved one in a treatment program, you'll want to be sure to find a place to stay as close as possible. This will make it easier to visit them during their visitor hours without having to waste precious time on public transportation or rideshares if you are unable to rent a car to get around.
Resources