Alcohol and Drug Abuse Statistics in West Palm Beach, Florida
Here is a brief overview of the recent substance use statistics for all of Palm Beach County, Florida:1,3
Paying for Alcohol and Drug Rehab in West Palm Beach, Florida
The cost of treatment shouldn't have to be a deciding factor in whether you're able to receive treatment for a substance use disorder. While long-term inpatient treatment can be costly, paying for alcohol and drug rehab in West Palm Beach doesn't have to determine whether you receive quality care from a licensed professional.
There are plenty of options on the table that make West Palm Beach's alcohol and drug rehabs affordable and accessible:

Medicaid
Medicaid is a federally funded program that offers health coverage to low-income individuals and families. There are some exceptions as to who can and cannot receive coverage, however.4 You also must meet the program's eligibility requirements to receive Medicaid health insurance, which includes proof of having an income level below the federal poverty line and that you're a legal resident of the country and state.4

Medicare
Medicare is another federal program that offers health insurance to people who are over 65 years of age and certain younger people with disabilities. Medicare covers a broad range of treatment services for those with substance use disorders and mental health disorders, however, those benefits depend entirely on the individual's plan as it's broken down into several categories with different coverage benefits.5
Private Insurance
If you have private health insurance coverage, then you'll be able to receive affordable treatment since virtually every health insurance provider includes behavioral health benefits in each of their plans. What's more, all drug rehab centers accept private health insurance as payment—you just have to make sure that your intended facility is considered in-network with your provider to get those benefits. It's also a good idea to get in touch with your provider to see how much coverage you have and how much you'll need to pay out of pocket.
State-funded rehab: State-funded drug rehab centers offer either free or low-cost care for people that have no other financial options. Depending on the facility, you may be offered free care, special financing plans (such as sliding scale payments), or rehab scholarships. State-funded facilities cover most types of treatment, including inpatient care, outpatient care, and even methadone clinics that provide medication for opioid substance use treatment.

Some of the free drug and alcohol rehab options in West Palm Beach, Florida include:

Center for Family Services of Palm Beach County Substance Abuse Treatment
Startliving
Rally Point
Palm Beach Institute
Seventy Seven Recovery
A New Start Inc.
Gratitude House Inc.
How Easy Is it to Travel to and Within West Palm Beach, Florida?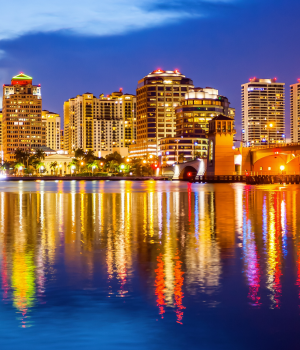 West Palm Beach is a relaxing city with plenty of art, culture, and beaches to explore. While the best way to get around is by car (or bicycle, in most areas), the Downtown and Waterfront areas are very walkable. If renting a car is out of the question, the city has metro buses, taxis, and rideshares like Lyft and Uber as its method of public transportation.
As far as major airports go, you'll find that Palm Beach International Airport (PBI) is the primary airport serving Palm Beach County, which includes West Palm Beach, Boca Raton, and other nearby Palm Beach areas. Aside from PBI, the other major airports include Fort Lauderdale-Hollywood International (FLL) and Miami International Airport (MIA), which are approximately one hour and two hours from Palm Beach County, respectively.
If you're looking for a place to stay while visiting a loved one in a treatment facility, there are plenty of hotels, motels, Airbnb, and bed and breakfasts throughout the city. Of course, it's recommended that you stay as close as possible to the treatment facility to cut down on travel time and make the most of your visit.
Resources