Alcohol and Drug Abuse Stats in Palm Bay, FL
Palm Bay, FL, is in Brevard County. It's on the Atlantic Coast of Florida, north of Palm Beach and east of Orlando.
Facts about substance use in Brevard County include:5,6,7
2,009
In 2020, 2,009 Brevard County residents visited the ER for non-fatal drug overdoses.
773
In 2020, 773 Brevard County residents were hospitalized for non-fatal drug overdoses.
2,503
There were 2,503 drug arrests in Brevard County in 2020.
Financing Alcohol and Drug Rehab in Palm Bay, FL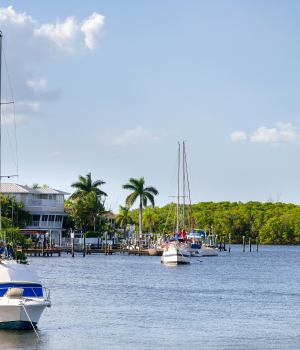 Many people may worry that they can't afford the cost of a Palm Bay, FL drug rehab program. If you are uninsured or low-income, there are still options to help you get care. Palm Bay, FL alcohol rehab or drug treatment facilities may offer payment assistance, so that cost is not a barrier to recovery. Look for facilities that have options such as sliding scale fees, payment plans, or scholarships.
In addition, you may be able to find rehabs that offer low-cost or free services, including:
Government-funded rehabs: The state and federal governments partner with rehab programs and provide them with operating funds. In exchange, the programs use the money to provide care to people who might not otherwise be able to afford rehab. Government-funded programs include medication-assisted treatment programs such as methadone clinics.
Grant-funded rehabs: Private organizations or agencies like SAMHSA award grant money to eligible substance use treatment programs. This funding allows the program to offer free or low-cost treatment. The treatment may include inpatient or outpatient programs.
Rehab scholarships: Your rehab facility or third-party organizations like 10,000 Beds might be able to give you a scholarship to help you pay for rehab. The scholarship can pay for some or all of the cost of rehab.
Using Health Insurance to Pay for Treatment
Insurance plans are all required to cover substance use disorder treatment. This includes Medicare, Medicaid, employer-sponsored plans, individual plans, and military insurance. Private insurance companies typically work with a network of care providers, and costs are lower if you go to an in-network program, which reduces the amount you will need to pay. Ask your insurance company which facilities are part of its network before enrolling in a program.
Medicare and Medicaid
Medicare is a federal insurance program for people over 65 and people with certain health conditions or disabilities. Under Medicare, you will be responsible for a co-pay, but the majority of costs are covered by the plan. Medicare covers both inpatient and outpatient rehab, including:8
Opioid addiction treatment, including medication-assisted therapy such as methadone or suboxone
Alcohol addiction screening services
Telehealth treatment
Group and individual therapy
Medicaid is a state-federal partnership that provides insurance to people who meet the eligibility requirements. In Florida, Medicaid eligibility is only available to children and their caregivers. Adults without dependent children are not eligible to receive Medicaid benefits. You may qualify for Medicaid if you are pregnant or if you receive Social Security Disability benefits. Medicaid in Florida is a managed care system where you can select a plan administered by a private health insurance company.9
You can use Medicaid to pay for alcohol or drug rehab in Palm Bay, FL at facilities such as Central Florida Treatment Centers in Palm Bay and Brevard Outpatient Center. Free services are available at facilities outside the immediate Palm Bay area, such as Recovery House of Florida in Sanford.
Local Information about Palm Bay, FL
Palm Bay is a small coastal community on Florida's eastern shore. It's part of the Space Coast region close to Cape Canaveral. Palm Bay can be reached from Interstate 95 and US Route 1. The closest airport is Melbourne-Orlando Airport, north of Palm Bay. Orlando Airport is located about 60 miles away in Orlando.
Attractions and Recreation
Palm Bay is best known for outdoor recreation. There are plenty of opportunities for fishing and water sports. Space enthusiasts can visit Cape Canaveral to learn more about the space program or see any scheduled launches. It's also an easy drive to local waterparks. The major theme parks in the Orlando area are within a 90-minute drive.
Transportation
Families visiting loved ones in drug or alcohol rehab in Palm Bay, FL, should plan ahead to arrange lodging and transportation. There are some hotels in the city of Palm Bay, but you can find more accommodations in Melbourne, which is just a short distance to the north. Palm Bay is most accessible by car, though there is a public bus line serving the area. There are also plenty of restaurant options in Palm Bay and the surrounding communities.