Drug and Alcohol Statistics in Clearwater
Here are some statistics about alcohol and drug abuse in Clearwater and Pinellas County:1,2,3,4,5
1.1&
In 2020, 1.1% of middle and high schoolers reported amphetamine misuse.
0.7%
In 2020, 0.7% of middle and high schoolers reported heroin use.
3%
In 2020, 3% of high schoolers reported drinking alcohol and driving within the past 30 days.
180
There were 108 motor vehicle fatalities involving alcohol in 2020.
How to Pay for Alcohol and Drug Rehab in Clearwater
If you find that cost of going to alcohol or drug rehab is a big factor in preventing you from getting the treatment you need, free and low-cost rehab programs are available.

State-Funded Rehab Centers: The government of the state of Florida gives financial grants to certain rehab centers to offer free or low-cost rehab to those who can't afford treatment. These types of centers are called state-funded rehabs. You may have to go through an application process to be admitted into a state-funded rehab. State-funded rehabs may also include methadone clinics that give out medication to treat opioid use disorders.
Rehab Scholarship: Some rehab centers offer financial aid through rehab scholarships. Rehab scholarships are usually site-specific, and not all rehabs offer this type of financial assistance. To find out more information about a rehab scholarship, you should contact the rehab of your choice.
Sliding Scale Rehab Program:
Certain charities include free or low-cost rehab in the services they offer to the community. These charities provide rehab through the funds they receive from monthly donors and one-time contributions. The Salvation Army is one charitable organization that offers free rehab.

Here are some options for free or low-cost rehab in and near Clearwater:

The Salvation Army-St. Petersburg
Narconon Suncoast
Although this center is not as close to Clearwater, another option available for free rehab is First Step of Sarasota, Inc., Mothers and Infants.
Private Insurance, Medicare, and Medicaid
Using private insurance can help to reduce or eliminate the costs of rehab. Private insurance like Blue Cross Blue Shield or Aetna will pay for a portion or the entirety of the cost of rehab. You should always check with your insurance provider to ensure that the rehab that you choose is in-network. This will help you avoid any extra payments.
Medicare and Medicaid can also help you pay for the cost of treatment. Medicare is a federally funded program that gives health benefits to anyone aged 65 or older. Medicare is required by law to cover drug and alcohol rehab through licensed centers.
Treatments and therapies that Medicare pays for include:6
Inpatient rehab
Medications prescribed to support your rehab
Outpatient rehab
Programs that require hospitalization as part of rehab
Hospitalizations due to substance abuse
Follow-up visits
Patient education about drug and alcohol misuse
Medicaid is a program that is funded by both the state of Florida and the federal government. Medicaid offers health coverage to people who have a low income.
Medicaid is also required by law to pay for drug and alcohol rehab. Treatment that Medicaid covers includes:7
Inpatient rehab
Medications that treat substance abuse like methadone
Detox
Outpatient rehab
Community support services
Using Medicare or Medicaid to pay for drug or alcohol rehab can help make getting the quality care you need more affordable.
Clearwater, Florida: Local Information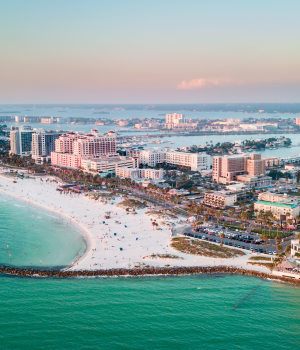 When you are first starting your search for Clearwater drug rehabs or Clearwater alcohol rehabs, you may have questions. You may ask "what is the best drug rehab near me?" You might wonder, "where can I find a licensed alcohol rehab near me?"
If you choose to travel to Clearwater for alcohol or drug rehab, you will want to know more information about this fun-filled city.
Clearwater is located near St. Pete-Clearwater International Airport. Other close airport locations include Tampa International Airport and Albert Whitted Airport. Since Clearwater is a popular destination for travelers, there are numerous hotel options ranging from affordable to luxurious. Clearwater is a walkable city with many options for public transportation and biking.
Things to do in Clearwater include relaxing on its many sandy beaches and visiting Pier60. At Pier60, you can enjoy quality fishing, visit a bait shop, or catch live entertainment like local music shows after dark. After visiting the beaches, you can head to the Clearwater Marine Aquarium or take a scenic ride on the Clearwater Ferry.
If you are interested in theater, you can visit the spacious Ruth Eckerd Hall or the Nancy and David Bilheimer Capitol Theatre to enjoy an entertaining show. There are also many parks like the Sand Key Park or Moccasin Lake Nature Park.
Choosing the right Clearwater drug or alcohol rehab can help you get on the road to long-term recovery. If you need more information, contact 800-926-9037 (
Who Answers?) to speak to a treatment support specialist.
Resources