Alcohol and Drug Use Statistics in Wilmington, DE
Within the past few years, Wilmington and the surrounding New Castle County have experienced an increase in substance abuse. Here are some data concerning drug and alcohol misuse in New Castle County:1, 2, 3
20%
In 2020, 20% of adults reported excessive drinking.
23%
A total of 23% of motor vehicle deaths involved alcohol-impaired drivers.
Levels of Care for Rehabs in Delaware
Some Delaware residents move through an entire continuum of care outlined below, while others require only the least intensive services.
Medical Detox
Detox is the process of safely clearing your system of all drugs and alcohol. It occurs in a supervised setting, such as an inpatient facility or hospital. Once this is completed, you are able to move forward with recovery services.
Residential or Inpatient
Residential or inpatient treatment is the most intensive treatment setting, offering 24/7 supervision. In this setting, you participate in individual, group, and family therapy sessions, and you may receive medication and additional therapies.
Partial Hospitalization Programs (PHPs)
PHPs usually involve some of the same treatment methods used in inpatient care, but you only stay at the facility during treatment times, then return home.
Intensive Outpatient Programs (IOPs)
A step down from PHPs, IOPs provide several hours of treatment over several days each week, leaving other times open for you to fulfill work or other obligations. Treatments often include individual and group therapy.
Standard Outpatient
Standard outpatient programs involve the least oversight. You receive two to three hours of care per week, typically from a therapist at their office or outpatient clinic. This level is appropriate for individuals who have mild addictions and strong support systems.
Aftercare
Aftercare, or relapse prevention, begins once inpatient or outpatient treatment is completed. It includes ongoing support such as therapy, 12-step groups, and other non-12-step groups.
How to Pay for Addiction Treatment in Wilmington, Delaware
Private Insurance
The federal Mental Health Parity and Addiction Equity Act requires all insurance providers to cover substance abuse treatment to at least some extent. Each plan differs, so Rhode Island residents should contact their provider to find out exactly what their plan covers.
Delaware Medicaid
Medicaid is a government program that furnishes medical assistance to eligible low-income families, the blind, and disabled individuals. Medicaid pays for substance abuse services and other medical care. In Delaware, Medicaid benefits are provided through a managed care organization, run through the Diamond State Health Plan.5
Delaware Medicare
Medicare is a federally funded health insurance program that provides coverage for Delaware residents aged 65 and older or who have certain disabilities. Addiction treatment services are covered under various Medicare plans. Not all rehab facilities accept Medicare, so it's important to confirm accepted methods of payment before starting a program. The Delaware Medicare Assistance Bureau provides free health insurance counseling for people with Medicare.
TRICARE in Delaware
TRICARE in Delaware provides health insurance coverage, including coverage for addiction treatment services, for U.S. military personnel, veterans, and their families.
Sliding Scale Rehabs
Sliding scale rehabs charge Delaware residents only what they can afford to pay based on their income. These discounts are not always advertised, so it is important to inquire about their availability. To qualify, residents must usually provide proof of income.
IHS-Funded Drug Rehabs
The Indian Health Service (IHS) is a government-funded health program that provides low-cost or free substance use treatment services for Native Americans and Alaskan Natives.
Local Information: Everything You Need to Know About Wilmington, DE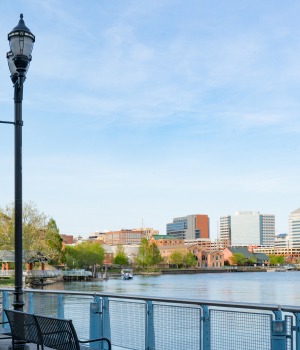 Wilmington is known for its gorgeous architecture, numerous museums, and beautiful parks. Wilmington also is known for its family-friendly attractions and experiences.
If you are thinking about getting treatment for substance abuse, you may be considering attending a Wilmington drug or alcohol rehab center. Whether you are seeking a free rehab or one that offers detox, you can find a drug or alcohol rehab in Wilmington to meet your needs. You may even have a loved one who is considering attending rehab in the city. Here are some valuable tips to help you on your travels:
You can get to Wilmington from the Philadelphia International Airport and take a taxi or ride share like Uber or Lyft into the city.
You can also take the Amtrak train into the heart of the city.
Wilmington has a number of different hotel and motel options for any budget.
Wilmington is quite walkable, and many errands can be accomplished by walking. Wilmington is also moderately bike-friendly. You still may wish to plan for your own transportation before arriving.
If you like local history, Wilmington has many different museums like the Hagley Museum and Library, the Rockwood Park and Museum, and the Delaware Art Museum.
If you'd like to enjoy relaxing in nature, you can enjoy the Bellevue State Park, Russell W. Peterson Wildlife Refuge, and the Brandywine Creek State Park.
For fun dining, unique shopping, and people-watching, you can visit the Wilmington Riverwalk.
If you want to enjoy some family-friendly fun, you can visit the Delaware Children's Museum.
If you enjoy theater, you can visit the Delaware Theatre Company, which is the largest professional theater in the state.
Delaware Drug and Alcohol Laws
Delaware lawmakers have enacted the following regulations to govern substance use and misuse:1,2,3,4
Delaware Good Samaritan Act: Delaware law grants immunity from certain drug-related criminal charges to those who seek emergency medical assistance for a suspected overdose. The aim of this law is to reduce the number of overdose deaths by removing the fear of legal repercussions if residents call for help.
Naloxone Standing Order: Per this order, any Delaware resident who is at risk of an overdose or may be able to assist someone at risk can obtain naloxone from a licensed pharmacy without a prescription. The state also provides free mail-order naloxone to residents who are unable to access it locally.
Substance Abuse Treatment Act: In Delaware, anyone who knows someone who may need substance abuse treatment can file a request to have that person involuntarily admitted to a treatment program. A licensed physician must provide written certification that the person requires treatment and cannot or will not consent to it.
Marijuana Laws: Recreational marijuana use is illegal in Delaware. However, a 2015 law decriminalized cannabis possession. Per this law, possession of up to one ounce of cannabis is a civil violation (rather than a misdemeanor), punishable by a $100 fine and no possibility of jail time.