Community Healthcore College Drive
2435 College Drive
Texarkana, TX 75501
Get Help Now - 866-312-4647
Who Answers?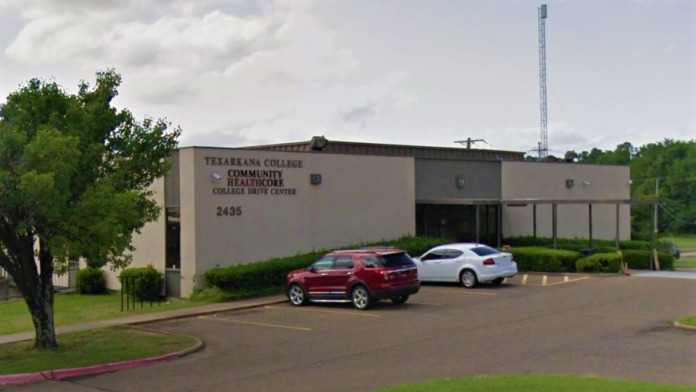 Amenities
Private setting
Recreation room
Residential setting
Addiction Treatment Programs
Adult Program
Alcohol Rehab
Men's Rehab
Opioid Rehab
Women's Rehab
Young Adult Program
Levels of Care
Outpatient Rehab
Aftercare Support
Dual Diagnosis
Insurance
Financial aid
Free
Medicaid
Medicare
Military insurance
Private insurance
Self-pay options
Sliding scale payment assistance
Contact Community Healthcore College Drive
903-831-7585
communityhealthcore.com
Location Details and Hours
Other Facilities Near Texarkana
Thumbnail
Name
Address
Phone
Treatment
Insurance

South Arkansas Youth Services SAYS

1202 North State Line Avenue
Texarkana, AR 75501

870-774-0920

Outpatient

Medicaid

Private

Arkansas Treatment Services

408 Hazel Street
Texarkana, AR 71854

870-774-0421

Detox

Outpatient

N/A

Overton Brooks VA Medical Center Texarkana CBOC

910 Realtor Avenue
Texarkana, AR 71854

870-216-2242

Outpatient

Medicaid

Private

Riverview Behavioral Health Hospital Texarkana

701 Arkansas Boulevard
Texarkana, AR 71854

844-849-7038

Detox

Inpatient

Medicaid

Private

Summerhill Counseling Center

4091 Summerhill Road
Texarkana, TX 75503

903-792-8887

Outpatient

Medicaid

Private

Community Healthcore Child and Adolescent Services Texarkana

1911 Galleria Oaks Drive
Texarkana, TX 75503

903-793-6660

Outpatient

Free

Medicaid

Private
More Addiction Facilities Near Texarkana
View more listings near Texarkana or search by the letter of cities in Texas.
View More (A)
Rate by Category and Submit a Review!
Find a Rehab Center
Select a state to find options for rehab centers in your area.
Browse By State