Substance Abuse and Overdose Statistics in Grand Junction, CO
Mesa Country fell into the fourth quintile (second highest group) of Colorado counties for a number of opioid-related death rates from 2013-2017.2 Other Mesa County drug and alcohol statistics are:3

16%
In 2017, 16% of Mesa County high school students reported using prescription pain medications without a doctor's prescription.
50%
Approximately 50% of people involved in substance use treatment were referred by criminal justice in 2017.
Local Information for Visiting Grand Junction, CO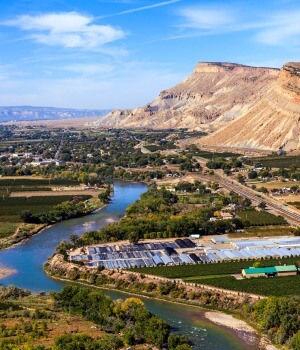 Grand Junction also has a cultured downtown atmosphere with artistry throughout the streets and in its many restaurants. Finding your way around Grand Junction, CO, may seem intimidating when planning a visit. But, whether you are looking for a treatment center or visiting someone you know in drug or alcohol rehab in Grand Junction, the following facts may make your planning a little easier.
There are many places to stay, including hotels, bed and breakfasts, camping, RV parks, Airbnb, and VRBO options. Depending on your preference and level of comfort, you are sure to find a lodging that suits you. Information on each of them is available on the city website.
Amtrak offers daily service to and from both east and west coasts through Grand Junction.
Traveling by bus is also an option with Greyhound Bus Service connecting to Denver and Durango, CO, Los Angeles, and Las Vegas, and Salt Lake City.
The easiest way to fly in Grand Junction is through Grand Junction Regional Airport (GJT). It's just four miles south of Grand Junction, and with a stop through one of its five connecting cities, you can arrive from nearly anywhere in the country.
Make sure to check the weather before making your plans. Grand Junction's maximum temperature ranges from 30 to 90 degrees Fahrenheit throughout the year.
There are endless options for exploring the public lands around Grand Junction. If you're a fan of the outdoors, you're not going to want to miss the Colorado National Monument, the Rattlesnake Arches, or Devils Canyon trails.
The Grand Junction city website (visitgrandjunction.com) offers more travel ideas and connections to help your travel.
Resources
Mesa County Public Health (MCPH). (2018). Mesa County community health needs assessment 2018-2020.
Colorado Department of Public Health & Environment. (2018). Mesa County opioid profile.
Mesa County Public Health (MCPH). (2019). Opioid quarterly report