Substance Abuse Statistics in Centennial, Colorado
Alcohol- and drug-use data collected by the Centers for Disease Control and Prevention and Colorado's Tri-County Health Department highlights the following Arapahoe County statistics:1, 3, 4
40%
In 2020, nearly 40% of all driving-related fatalities in Arapahoe County involved alcohol, drugs, or both substances.
19%
In 2019, roughly 19% of Arapahoe County adult residents and 13% of teens reported engaging in binge drinking regularly.
Financing Alcohol and Drug Rehab in Centennial, Colorado
Most, if not all, Centennial drug rehabs and alcohol rehabs accept multiple forms of payment, including various types of health insurance. Several facilities also offer reduced-cost and even free rehab programs for individuals who need help paying for treatment and those who have no financial resources.
Paying for Addiction Treatment With Private Insurance
If you have a private health care plan through your employer or the Healthcare Marketplace, it can help you pay for drug or alcohol rehab in Centennial. Under the 2010 Affordable Care Act, most private insurers are required to provide coverage for addiction treatment services.5
You may be responsible for some out-of-pocket expenses—like copays, coinsurance, or a deductible—depending on your plan's coverage limits and stipulations. While some plans pay for the full cost of inpatient or outpatient treatment, others only cover specific services or pay for a percentage of total rehab costs.
Paying for Rehab With Medicaid
If you're a Colorado Medicaid (Health First) beneficiary, you can use your plan to pay for treatment at a Medicaid-approved alcohol or drug rehab in Centennial. Within 10 miles of the city, you'll find at least 20 outpatient and inpatient rehab centers that accept Medicaid.6 At these facilities, your plan should cover several types of quality care, including:7
Withdrawal management (detoxification)
Assessments and screenings
Residential or inpatient treatment
Outpatient treatment (PHP, IOP, and standard programs)
Medication-assisted treatment (MAT) for opioid- and alcohol-use disorders
Behavioral health therapy and counseling
Therapy for co-occurring mental health disorders
Most covered treatment services will not require a copay and do not have coverage limits. However, some services do require prior authorization from a licensed healthcare provider.7 To find local facilities that take your insurance, you can search online for "alcohol rehabs near me" or "drug rehabs near me." Then contact treatment centers in your search results to ask whether they take Medicaid and which services are covered.
Using Medicare to Pay for Rehab
If you have Medicare, your insurance should cover several substance abuse treatment services, including:8
Inpatient rehab
Outpatient programs, including PHPs
Substance use disorder assessments
Individual and group therapy and counseling
Medications for alcohol- and opioid-use disorders
Certain telehealth treatment services
To get coverage for these services, they must be deemed "medically necessary" by a licensed healthcare provider. Medicare will only cover treatments that are considered reasonable and necessary to help you recover from alcohol or drug addiction.8
You must also enroll in a Medicare-approved Centennial alcohol rehab or drug rehab if you want to use your plan to pay for treatment. You'll find five such facilities within 25 miles of the city, the closest of which are in Aurora and Denver, roughly 12 miles away.6
Low-Cost and Free Rehab in Centennial, CO
If you need financial assistance to pay for rehab, you may qualify for discounted or free treatment services at the following types of Centennial drug rehab centers:

Government-funded treatment centers: These rehab centers get funding from Colorado and the federal government to provide low-cost and free treatment to eligible state residents.
Methadone clinics: Many of these facilities receive funding from public sources to provide discounted or free medication-assisted treatment for people with limited means.
Sliding scale rehab centers: Treatment facilities that use a sliding fee scale only require patients to pay what they can realistically afford based on their income. Some facilities have a minimum fee, while others offer services free of charge to individuals with very limited or no financial resources.
If you're looking for discounted or free addiction treatment in Centennial, here are a few local facilities that may be able to help you:6
New Beginnings Recovery Center (roughly six miles away in Littleton)
Magnolia Medical Group (roughly 12 miles away in Denver)
Denver Health (roughly 14 miles away in Denver)
Is it Easy to Travel to and Within Centennial?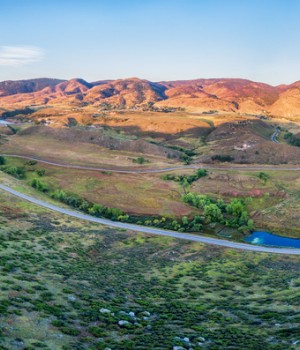 Are you planning to visit someone in a long-term Centennial alcohol rehab or drug rehab? Do you want to travel to the city for short-term or long-term treatment? Either way, it's always a good idea to familiarize yourself with the area first.
Traveling to Centennial
You can fly into Centennial Airport, which is in Englewood, just three miles from the city. You can also fly into Denver International Airport, which is about 34 miles northeast of Centennial.
Lodging in Centennial
If you want to stay within the Centennial city limits, you can choose from several affordable, 2- and 3-star hotels. If you're looking for higher-end accommodations, you'll find several 4- and 5-star lodging options in the Greenwood Village area, just a few miles north of the city.
Getting Around Centennial
You'll need a vehicle to get around most parts of Centennial efficiently, as the city's layout isn't conducive to traveling on foot. If you need public transit, Denver's Regional Transportation District operates a fixed-route bus service with several stops in and near Centennial. The greater Denver area also has a metro light rail, which can take you all over the city and into several surrounding towns.9
Things to Do in and Near Centennial
If you're a nature lover, you'll enjoy Centennial's various public parks and open green spaces. You'll also find several hiking, walking, and biking trails in and near the city. If you're looking for more entertainment, you'll find plenty of things to do in downtown Denver, which is just 15 miles north of the city. Red Rocks Park and Amphitheater are also easily accessible from Centennial and located about 26 miles west of the city.
Would you like assistance exploring your addiction treatment options in the greater Denver area? If so, we're available 24/7 to help. Please call us at 800-405-1685 (
Who Answers?) to speak with a treatment support specialist about your options for drug or alcohol rehab in Centennial.