Drug and Alcohol Abuse Statistics in San Rafael, CA
Substance use data collected by Marin Health & Human Services, the CDC, and the California Department of Public Health emphasizes the following alcohol- and drug-use statistics:1,3,4,5

27%
From 2016 to 2020, nearly 27% of driving deaths in Marin County involved alcohol-impaired drivers.
21%
In 2020, roughly 21% of Marin County residents reported needing help with substance use and/or mental health problems.
50%-64%
In 2021, the stimulant-related fatality rate in San Rafael's 94901 zip code exceeded California's overall rate by 50% and Marin County's rate by 64%.
Traveling to San Rafael, CA: Transportation, Where to Stay, and Local Attractions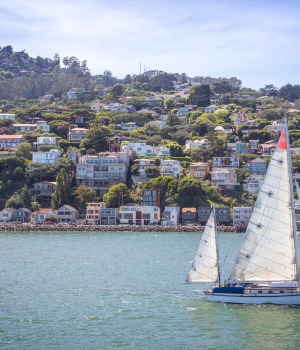 Are you interested in traveling to a drug or alcohol rehab in Marin for treatment? Are you planning to visit someone in one of the city's recovery centers? Either way, here's what you should know to start planning your trip:
If you're planning to fly in, you can book a flight to Oakland International Airport, which is roughly 40 minutes from San Rafael by car. San Francisco International Airport is also nearby and located about 38 miles south of the city.
If you need public transportation, Marin Transit provides fixed-route bus service throughout San Rafael and all of Marin County. Golden Gate Transit also operates regional, fixed-route bus service in Marin, Contra Costa, Sonoma, and San Francisco Counties.
San Rafael is the second-most walkable, mid-sized city in the Bay Area; however, bike lanes are fairly scarce.
There are a few national-chain and non-branded hotels in San Rafael. However, if you're willing to stay a few miles outside the city, you'll find more options in nearby Corte Madera.
San Quentin Beach, San Rafael Bay, McNears Beach, China Camp Beach, China Camp State Park, Mountain Park, and Memorial Park offer plenty of opportunities for outdoor fun.
Popular local attractions include the historic Mission San Rafael Arcángel 1817, the Downtown San Rafael Arts District, Christopher B. Smith Rafael Film Center, Falkirk Cultural Center, Marin Shakespeare Company, and the Marin History Museum.
Resources