Alcohol and Drug Use Statistics in Palo Alto, CA
Palo Alto and the surrounding Santa Clara County have struggled with the burdens of drug and alcohol misuse, much like the rest of the United States. Here are some data concerning substance abuse in Santa Clara County:2, 3

5%-35%
In 2021, 17% of adults reported excessive drinking.
3%-15.8%
A total of 26% of motor vehicle fatalities involved an alcohol-impaired driver.
2.9%-33%
In 2021, 108 individuals were hospitalized due to opioid overdose.
Traveling to and Within Palo Alto, CA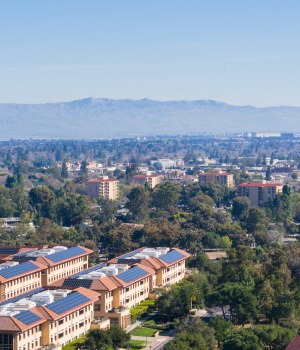 You may be interested in a detox program or a rehab center in the Palo Alto area. It doesn't matter if you are looking for inpatient or outpatient rehab, Palo Alto has many different options, many accepting various forms of insurance and even programs that offer free treatment. If you are considering attending alcohol or drug rehab in Palo Alto, here is some valuable information about the city to help with your travels.
You can get to Palo Alto from either the San Jose International Airport or the San Francisco International Airport.
There is a wide array of hotel and motel accommodations ranging from modest to extravagant that can fit any budget.
Palo Alto is a moderately walkable city, so you can get a fair number of tasks done without your own private vehicle. Although there is some public transportation available, you may still wish to arrange for your own transportation. Bike riders will find their way around the city with ease since it is bike friendly.
If technology is of interest to you, you can arrange for a Silicon Valley tour.
You can enjoy fresh produce at the California Avenue and Sigona's Farmers Markets.
There are plenty of museums to enjoy, like the Cantor Arts Center, the Foster Museum, and Hoover Tower.
Fun children's activities include the Palo Alto Junior Museum and zoo, Rinconada Park, and Mitchell Park.
If you enjoy nature, you can visit the Lucy Evans Baylands Nature Interpretive Center, Monte Bello Open Space Preserve, and the Pearson Arastradero Preserve.
If you enjoy education and architecture, you can take a walk around the campus at Stanford University.
Resources
County of Santa Clara Behavioral Health Services. (2022). Fentanyl Overdose Deaths in Santa Clara County.
California Department of Public Health. (2022). California Overdose Surveillance Dashboard.
University of Wisconsin Population Health Institute. (2022). County Health Rankings and Roadmaps: California-Santa Clara County.