Substance Abuse Stats in Chico
Chico and Butte County are located in Region 1R of California. Here are some statistics on drug and alcohol use in the Butte County region among people 12 years and older between 2016 and 2017:3

About 27% reported marijuana use in the past year.
Close to 4% reported cocaine use in the past year.
About 1% reported methamphetamine use in the past year.
Close to 56% reported alcohol use in the past month.
26
There were 26 deaths related to opioid overdose in 2020.
144,000
Almost 144,000 residents received opioid prescriptions in 2020.
73
There were 73 hospitalizations and 53 emergency department visits related to opioid overdose in 2020.
1,100
About 1,100 residents were arrested for DUI in 2017.
How to Finance Alcohol and Drug Rehab in Chico
Rehab costs don't have to be a burden as you seek recovery from drug and alcohol misuse. Chico, California, has several options to assist you with funding for therapy. These options include government and private insurance coverage as well as free and low-cost options for people who lack insurance. You may be eligible for state-funded programs if you live in Chico, California. Some rehabs in Chico offer rehab scholarships to offset some or all of the cost of treatment.
Free drug and alcohol rehab centers in Chico and Butte County include the following:
Chico VA Clinic
Aegis Treatment Centers Chico
Treatment Court Services
Rehab Scholarships
A rehab center may offer a scholarship to fund part or all of the cost of treatment. Rehab scholarships may come with certain stipulations, such as a withdrawal of funds if you terminate treatment prematurely, leaving you with the bill. It is important to find out about the terms of the scholarship prior to starting rehab. You can contact the rehab center to obtain details about its rehab scholarships.
State-Funded Rehabs
Butte County offers state-funded rehab for residents with low income and limited financial resources. Residents on Medicaid receive state-funded rehab through the Drug Medi-Cal Organized Delivery System (DMC-ODS).6
Private Insurance, Medicare, and Medi-Cal
Private insurance includes individual and group coverage from companies like UnitedHealthcare, Blue Cross Blue Shield, Cigna, Aetna, and others. The cost of rehab will be significantly less or free if you pay with private insurance. The amount you pay with private insurance will depend on the company and the type of plan.
Medicare and Medicaid are government health insurance plans. Medicare is a federal program that provides coverage for people who are 65 years and older, whereas Medicaid, known as Medi-Cal in California, is designed for people with limited income and resources.7, 8 The following programs accept Medicare and Medicaid:
Butte County Behavioral Health Adult Mental health Service
Oroville Community Counseling Center
Chico VA Clinic
You can expect Medicare to cover the following alcohol and drug rehab services:9
Alcohol misuse screenings
Inpatient treatment
Outpatient rehab
Partial hospitalization
Telehealth
Opioid addiction treatment
Medication-assisted treatment
Group and individual therapy
Medicaid is funded by the state and federal governments. In California, Medicaid is administered by Medi-Cal. which provides low-cost health insurance using family size and annual earnings as eligibility criteria.8 The Drug Medi-Cal (DMC) program delivers medically necessary rehab services to Chico residents who are Medi-Cal beneficiaries.6 You can expect most or all of your rehab costs to be covered by Medi-Cal if you are eligible.
How Easy is it to Travel to and Within Chico, CA?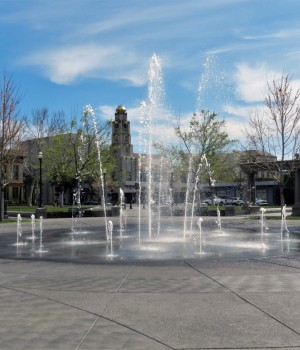 Local information will make your travel for rehab or visit with a loved one in rehab in Chico, CA, less of a hassle. Chico is a great location for rehab if you prefer the balmy Mediterranean climate of California's Northern Sacramento Valley with its mild winters and sunny summers. Chico is ideal if you are an outdoor enthusiast who wants to enjoy tubing, hiking, biking, boating, swimming, and water sports at the Bidwell-Sacramento River State Park.
There are plenty of fun places to enjoy when in Chico. This charming city is famous for the 1078 Gallery, Chico Air Museum, Silverdollar Speedway, Sierra Nevada Brewing Company, and the Chico Theater Company. You can travel with ease to and from Chico to support a loved one in rehab using the Chico Municipal Airport. However, there are several airports, such as the Redding, Sacramento International, and Santa Rosa Sonoma County Airport, that are between 50 and 100 miles away. You can expect to be reliant on a car in Chico, but a few neighborhoods like South Campus, California State University—Chico, and Southwest Chico are walkable, and you can run errands and explore these communities on foot. Alternatively, you can travel by bus within the city on the Butte Regional Transit or around the region on Amtrak. Lastly, Chico, CA, has many hotels with a wide range of prices. You can be sure to find a budget-friendly hotel from one of the many hotels in Chico for your recovery journey.