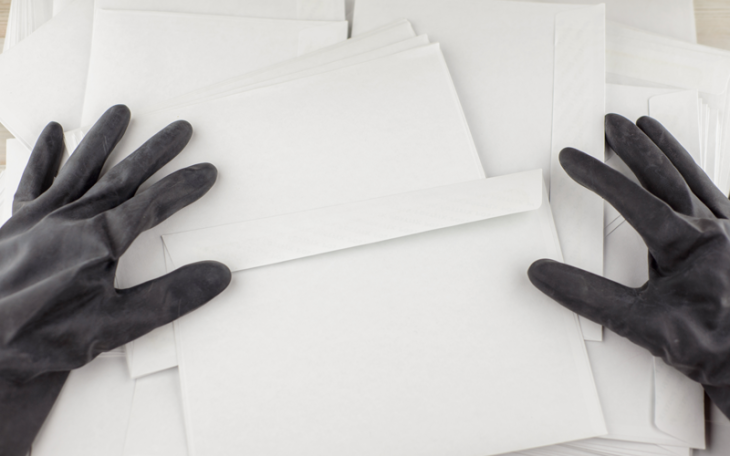 When mailroom workers at a District of Columbia jail opened a letter on March 15, sixteen of them were sickened by a substance inside, at first thought to be fentanyl.
Later tests showed the drug was "synthetic cannabinoid," according to District of Columbia Fire and Emergency Medical Services, who responded to the incident and treated nine people at the jail. Four employees were taken to MedStar Washington Hospital Center, though none suffered severe injury. Three people went voluntarily to the hospital themselves later. D.C. Fire and EMS sent hazardous materials handling or "hazmat" team to the jail.
At first, authorities thought the drug in the envelope might be fentanyl, a drug that can be up to 100 times more powerful than morphine. Fentanyl is potentially deadly if touched, or if even a small amount is inhaled (which makes it a particular threat to drug-sniffing dogs).
Mail delivery and jail visits were stopped that day as authorities investigated.
Because the controlled substance was sent through the mail, the Federal Bureau of Investigation joined the case along with local District of Columbia police. News reports gave no information on the letter's origin or address, if it was to a specific person at the jail, whether a staff employee or inmate.
No jail inmates were exposed to the drug, nor were any visitors to the treatment facility, which is in the southeast corner of the city, along the Anacostia River.
Synthetic cannabinoids are designer drugs that mimic the effects of natural cannabis compounds, such as those found in marijuana. Many types of synthetic cannabinoids have been created as a way of achieving the same results as marijuana use without breaking local and federal laws banning pot. Although some have been studied for medical use, most are distributed for recreational drug use. Because there are so many different synthetic cannabinoids, their particular effects and risks are difficult to evaluate.
Because they're made in crude chemical labs, without rigorous manufacturing procedures and controls, synthetic cannabinoids vary in quality and effect. Some of them have been found to cause serious symptoms requiring hospitalization, including death.
Synthetic cannabinoids can be stronger than naturally occurring ones such as THC – this has to do with the way they bind to chemical receptors in human cells. THC binds partially to such receptors, while synthetic cannabinoids bind more completely, thus increasing their effects.