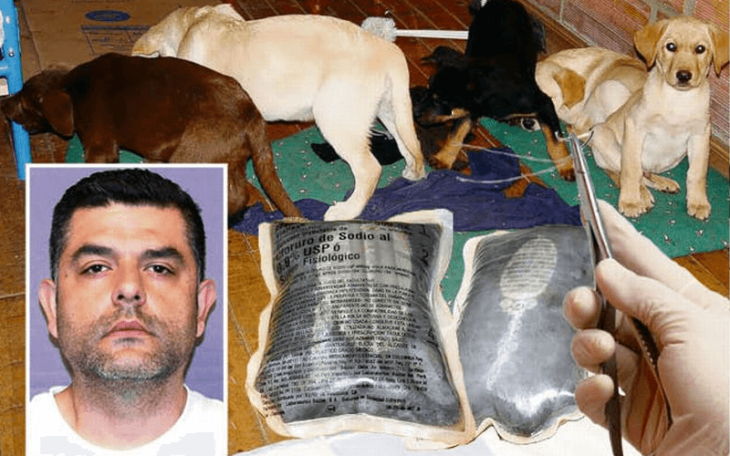 Drug enforcement officials have said a Venezuelan vet has been extradited from Spain and arraigned on charges of drug smuggling and animal cruelty. Andres Lopez Elorza (38), a US Veterinarian, is accused of using a puppy farm to smuggle drugs from Colombia to New York City.
Officials said that it seemed that the plan was to present the dogs as show dogs to explain the journey from Columbia to New York City. Thought to be working for a Colombian drug smuggling ring, Elorza used his professional veterinary skills to implant packets of liquid heroin into stomachs of the dogs to transport it into New York undetected. The drug packets were then cut out of the dogs' stomachs, killing them
In a case described by the DEA as the most shocking and outrageous he had ever come across, each dog was implanted with around a pound of the potent and deadly drug. US police received a call from a narcotics hotline which tipped them off to Elorza's activities after which they tracked him to Pontevedra in North West Spain.
Elorza, who was originally arrested in Spain in 2005, and has been fighting extradition for the past 12 years, has pleaded not guilty to the charges against him. Mr. Elorza's lawyer has said that the drug trafficker is in poor mental and physical health which he attributes to the stress of his current situation.
The Judge ordered that Elorza be held without bail due to the severity of the charges and the fact that he is a flight risk. Although it is not known exactly how many dogs were used altogether in Elorza's cruel operation, police estimate the value of the drugs smuggled to be around a street value of $2 million.
After the tip-off in 2005, police found the puppy farm which Elorza had been using as his supply and found ten dogs which were subsequently rescued. During the initial investigation, 21 other individuals were arrested and questioned across North Carolina and six Columbian cities. Of the rescued animals, a Rottweiler has since been trained as a narcotics detection dog by the Colombian National Police, and a Basset Hound was adopted by a police officer as a family pet.