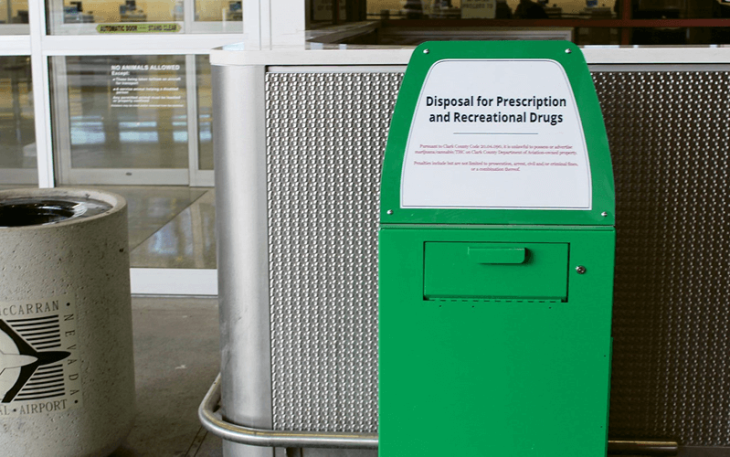 What happens in Sin City is supposed to stay there, especially if it is legal recreational marijuana.
The McCarran International Airport, which serves Las Vegas, recently installed bright green, secure garbage containers with the message "Disposal for Prescription and Recreational Drugs" on them.
Clark County, which contains Las Vegas and Paradise, where McCarran is located, banned possession of cannabis at the airport in September 2017. As a helpful measure for departing tourists, the Clark County Department of Aviation decided to install the so-called "amnesty boxes" for safe disposal of any leftover pot.
Nevada has allowed legal sales of recreational weed since July 2017, while possession laws were loosened at the start of 2017 to permit carrying as much as an eighth of an ounce. But Transportation Security Administration officers at security checkpoints are less forgiving about drug possession.
Airport users who had marijuana on them until now also risked a run in with the Las Vegas Metro Police, although officers had not been particularly vigilant about it, according to local news reports. The TSA would typically ask local police to handle such cases.
Similar to mailboxes, the green amnesty cans have a drawer that opens for someone to deposit their marijuana, a set up that makes getting anything out of the bins difficult. The Clark County Department of Aviation has hired a subcontractor to empty the boxes and haul away whatever's inside.
To prevent theft of the entire container – after all, these are boxes potentially stuffed with marijuana – the bins are bolted to the concrete floor.
About twenty such boxes are planned in all, most at McCarran, but also at some other facilities. The Clark County Department of Aviation also operates North Las Vegas Airport, Perkins Field, Mesquite Airport, Jean Sport Aviation Center and Henderson Executive Airport.
Federal law forbids marijuana possession in airports and on aircraft. Many state and local governments that have legalized marijuana possession and sales are uncertain about how U.S. agencies and officials will enforce those laws, which were relaxed under President Barack Obama but which have recently been emphasized by Justice Department officials.