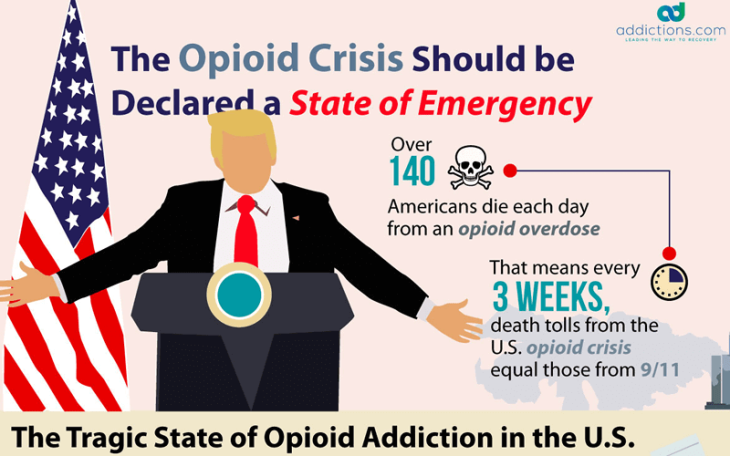 Life expectancy in the United States declined for the second consecutive year in 2016, spurred by an increase in fatal opioid overdoses, the Centers for Disease Control and Prevention reported Thursday.
According to the latest analysis, the average life expectancy in the US stood at 78.6 years in 2016, a one-tenth decrease from 78.7 years recorded in 2015. This drop followed close on the heels of another decline of one-tenth between 2014 and 2015.
The deaths linked to synthetic opioids also rose significantly to 6.2 per 100,000 in 2016, from 3.1 per 100,000 recorded the previous year.
Since 1962 and 1963, when Influenza caused an excessive number of deaths, the US has not seen two years of declining life expectancy. The height of the Aids epidemic in 1993 only caused a one year drop in the life expectancy.
Robert Anderson, chief of the National Center for Health Statistics (Mortality Statistics Branch), says there is a real cause for alarm. "I'm not prone to dramatic statements, but I think we should be alarmed. The drug overdose problem is a public health problem, and it needs to be addressed. We need to get a handle on it."
Anderson warns that the surging opioid overdose deaths could continue chipping away the lifespan of the US population for a third straight year, a phenomenon last seen a century ago. "We could have more than two years of declining life expectancy in a row, which we haven't seen since the influenza pandemic of 1918, we haven't seen three years in a row since then, and that was a century ago."
Robert Anderson points out that drug overdose deaths have been mounting for the last decade, with its increase accelerating in the last few years. The trend is especially worrying because life expectancy is regarded a central indicator of a nation's general well-being. For this reason, the decline paints a grim picture if the pandemic is not tamed.
Despite the bleak picture witnessed in recent years, the American population has enjoyed significant gains in life expectancy over the long haul, driven by improvements in public health, expanded access care, and new medical treatments. "While the increase in drug overdose mortality has been quite substantial and very concerning, it hasn't impacted the overall picture regarding mortality," Anderson said.