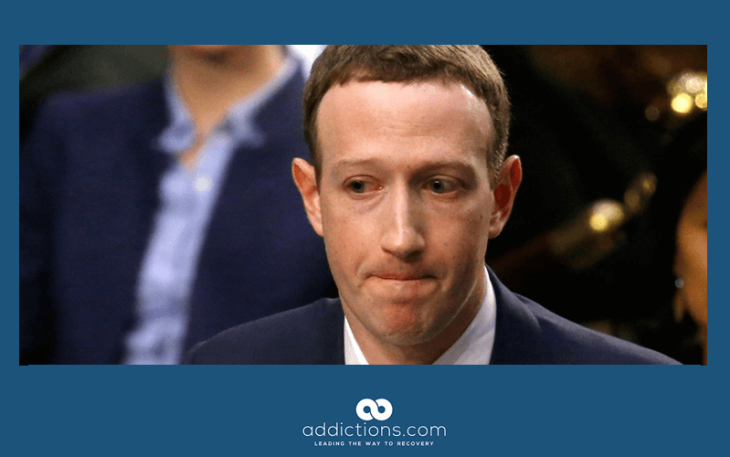 During his second day of testimony on Capitol Hill in Washington, D.C., Facebook founder and CEO Mark Zuckerberg faced sharp questions from members of Congress over his company's failure to stop illegal opioid ads on the social media site.
The criticism doesn't only cover Facebook sites, but also extends to ads on other social media services like Instagram, which Menlo Park-based Facebook owns.
Although the overall tone of Zuckerberg's testimony before the U.S. Senate and House of Representatives was apologetic, he sidestepped many questions put by lawmakers, including those about drug ads and sales facilitated by his company.
A techie at heart, Zuckerberg said Facebook needs better algorithms and artificial intelligence to monitor its vast, sprawling landscape and to catch illegal ads, including those offering opioid drugs. Right now, Facebook depends mostly on people who use it to "flag" illegal stuff, which then brings it to the attention of security monitors.
But Facebook is so enormous, reaching billions of people, that human efforts aren't enough, Zuckerberg indicated.
West Virginia Republican representative David McKinley demanded to know why Zuckerberg hasn't done more to specifically combat illegal opioid ads on Facebook, pointing particularly to offers for drugs like oxycodone, Percocet (which contains oxycodone) and hydrocodone. McKinley – showing screenshot photos of some Facebook drug ads to Zuckerberg – called the opioid epidemic sweeping the United States a "scourge" and "a national emergency" and asked the 33-year-old Facebook founder about his "accountability."
Zuckerberg did say that as the founder and boss of Facebook, he was ultimately responsible for what happens on the popular social media system. He folded the illegal drug ads in with other places the company has fallen short, saying there were "a number of areas" that Facebook needed to police more thoroughly and vigilantly.
Some of the particular opioid ads put up by illegal pharmacies on Facebook were taken down later on Wednesday after members of Congress at the hearings referred directly to them.
Somewhat defensively, Zuckerberg told McKinley that the approximately 20,000 people tasked with reviewing flagged Facebook content can't keep up with the billions of items posted each day by the social media service's users. He said the company hoped to hire more contractors to raise the number of people working directly on data security on the system – some of those would likely be looking for illegal content.
Last week, Scott Gottlieb, the boss at the U.S. Food and Drug Administration, argued in another hearing in Congress for a crackdown by internet service providers on illegal ads for fentanyl and other synthetic opioids online. Fentanyl, which can be up to a hundred times more potent than heroin, can kill even in tiny doses.
Gottlieb told Congress that internet companies aren't trying hard enough to stop such illicit drug sales.
During his questioning of Zuckerberg on Wednesday, McKinley estimated there are about 35,000 online pharmacies, according to FDA information, and that as many as 96 percent of them may be illegal.