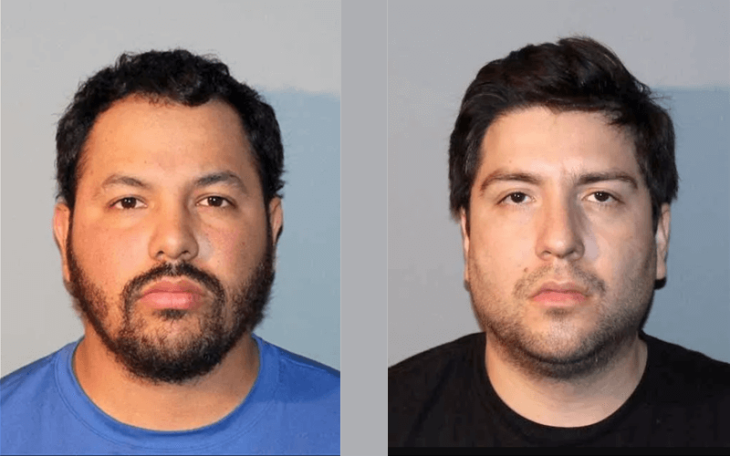 Two men have been arrested for possession of about 100 pounds of fentanyl – enough to wipe out the combined populations of New York and New Jersey.  New Jersey authorities say the 45 kilos seized contained over 18 million lethal doses.
31-year old Jesus Carillo-Pineda and 26-year old Daniel Vasquez were arrested following a tip to the police.
The officers witnessed the two men transfer 40 kilos of fentanyl from a tractor-trailer driven by Vasquez into a Mercedes occupied by Carillo, in a North Bergen parking lot. The following day in Willingboro, an additional 5 kilos were seized together with about 40 kilos of heroin and methamphetamines.
Jesus was sentenced to 10 years in prison, while his counterpart received a six-year jail term after they pleaded guilty. According to the Attorney General's office, charges against one other suspect were dropped while Omar Zeus Rodriguez, a 38-year old suspect is still at large.
Law enforcement in New Jersey said that there were over 800 overdose deaths caused by fentanyl in 2016, an increase of 417 from the previous year. Elie Honig, New Jersey Criminal Justice director, noted that over 45 kilos of fentanyl were brought in during last year's investigation in New Jersey. He added that the amount of fentanyl in heroin was increasing, with tests done last year revealing more than a third of the heroin tested.
Fentanyl is a class of opioids, 30 to 50 times more potent that heroin and about 50 to 100 times stronger than morphine. In fact, a dose as small as a quarter a milligram can be fatal. This drug can be legally prescribed as a pain medication, but the majority that is found in the streets is illegally manufactured.
The Civil War kick-started the opioid boom when numerous states cultivated poppies for the treatment of excruciating pain caused by injuries and prevalent dysentery. At the time, the Union forces distributed approximately 10 million opium pills and 2 million ounces of opiates in powder form. Consequently, large numbers of veterans got hooked, leading to the disease being called 'Soldier's disease'. The development of even more morphine and the hypodermic needle only worsened the situation, with these veterans now joined by their relatives, also battling post-war grief.
The extent and danger of the opioid phenomenon is an indication of a civilization that is currently in a more severe crisis than previously thought. America, having pioneered the modern way of life is trying to escape the jaws of death through radical measures witnessed across the country. Before leaving office, Chris Christie, former New Jersey governor fought the opioid crisis in his state and beyond. He was also part of President Trump's commission on opioid abuse.
Trump, also, charged his health secretary with being very 'tough' on drug companies and doctors over prescriptions of opioid-based drugs. Republicans also declared the crisis a public health emergency, stating that 'we can be the generation that ends the opioid emergency.'