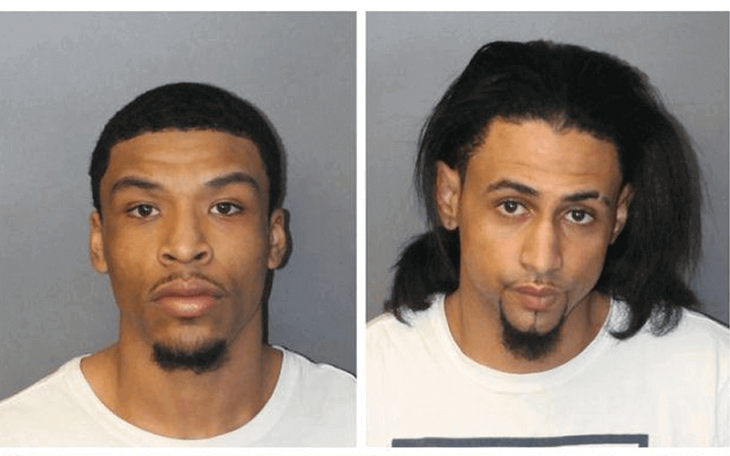 In Brockton, MA, two men were arrested on fentanyl charges after being caught with four bags of fentanyl and other illicit drugs, said police.
Carlos Amado and Lamont Johnson were arrested and charged with: one count of unlawful possession with intent to distribute Class B substance (fentanyl), unlawful possession with the intent to distribute a Class D substance (marijuana), one count of conspiracy to violate the controlled substance act, and unlawful possession of a class E substance (Xanax pills).
Detectives continue to hit the city streets using crime suppression patrols, with the intent to locate drug dealers and violent criminals. The patrols were being conducted around 2 p.m. on Saturday when the officers observed a gray Nissan Altima traveling south on Main Street with the front driver's light assembly missing.
"Due to the improper equipment, detectives activated their police lights," said Lt. Paul Bonanca, of the Brockton police department. "Detectives observed the right front passenger bend down towards the floor with what appeared to be both hands. The passenger subsequently reached into his jacket pocket. As detectives reached the vehicle, detectives ordered the passenger to place his hands forward in the car. Detectives observed an open black bag on the lap of the passenger."
Detectives removed Johnson, along with two other passengers from the vehicle. After searching the bag, fentanyl and Xanax pills were located. Police also searched the car and seized several items as evidence.
In total, police seized four bags of fentanyl, three Xanax pills, two digital weight scales, 58.5 grams of marijuana, and $8,581 in cash.
Amado and Johnson were both transported to the Brockton police station for booking. Both are expected to be arraigned at Brockton District Court on Tuesday, at the New Year's holiday. No details were released regarding the other occupants of the vehicle.
There was no information released about any bond being set and no details released about the two men's legal representation, whether they had been assigned or hired attorneys.
Xanax is the brand name of the drug alprazolam, which has been used to treat anxiety disorders. When taken in large doses, it can cause sedation and euphoria. The drug can be misused by those who are prescribed to address anxiety issues. Xanax addiction requires treatment through a professional rehabilitation program. In a study from 2010, over 345,691 cases of emergency department visits that were reported to be associated with benzodiazepines.