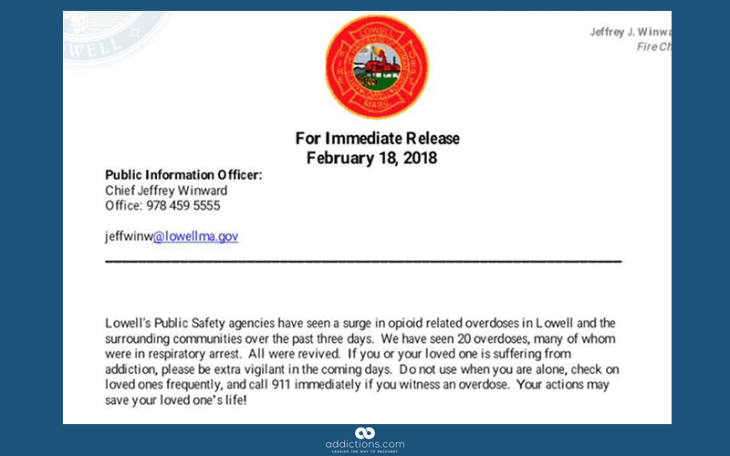 Lowell police are warning citizens about an alarming uptick in overdoses throughout the Massachusetts city. Emergency crews have responded to calls for more than 20 opioid overdoses in just three days.
The police believe that the overdoses are related to a potent batch of fentanyl. Lowell Fire Chief Jeff Winward stated that often heroin found on the streets these days is cut with fentanyl, which is extremely potent and causes most overdoses to occur.
While all the victims survived, many were in respiratory arrest when the emergency personnel arrived. Winward also cautioned that if you know someone who is using, make sure to check in on them regularly and call 911 immediately if they are overdosing.
There have been five opioid-related deaths in Lowell since the start of this year. Winward also noted that since the warning was issued, they have only responded to one overdose emergency call and they are taking this as a sign that the warning may be working.
The Massachusetts Department of Public Health estimates that the state had approximately 1,977 opioid-related overdose deaths last year. While that number has fallen from previous years, the authorities are seeing an increase in fentanyl being present in the toxicology reports of 83 percent of the year's deaths.