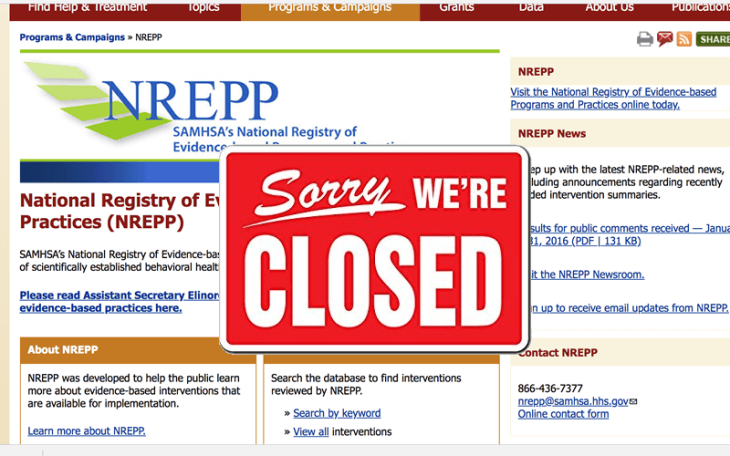 Federal officials have frozen a program used by thousands of health professionals and community groups countrywide to find effective interventions to treat and prevent mental illnesses, and drug and alcohol abuse.
The National Registry of Evidence-Based Programs (NREPP) and Practices database, launched in 1997, contained over 400 intervention programs and resources considered useful and scientifically valid in promoting mental health, treating addiction and averting teen suicide.
The two-decade-old registry has been invaluable to thousands of professionals and community groups in finding suitable treatments and interventions for substance abuse and mental illnesses.
The government's move took many industry stakeholders by surprise and spurred a by-partisan backlash from health professionals and politicians. In a statement, New York Congresswoman Grace Meng says the freeze is shocking considering the current opioid overdose crisis. "I was shocked to learn that the NREPP contract has been terminated as an opioid epidemic continues to shake our nation." Meng vowed to find answers from SAMHSA, saying "I'm determined to find out why SAMHSA has made such a mind-boggling decision."
The Health and Human Services Department's Substance Abuse and Mental Health Services Administration (SAMHSA) houses NREPP
In an email dated January 4th that was sent to program developers, DSG -the contractor working on the registry- expressed their deep regret over the termination of the contract. "We are deeply saddened by the government's sudden decision to end the NREPP contract, under which we have been able to provide and strengthen science-based information about mental health and substance use treatment and prevention programs."
According to SAMHSA's Mental Health and Substance Use assistant secretary-Elinore McCance- NREPP virtually brushed off severe drug abuse disorders and mental illnesses. McCance also says NREPP's standards for adding programs to the database are miserable.
"I believe at SAMHSA we should not be encouraging providers to use NREPP to obtain evidence-based practices given the flawed nature of the system," said McCance in a press call Thursday.
Brian Dominguez – SAMHSA spokesman – told the Washington Post that the agency is working to "institute an even more scientifically rigorous approach to better inform the identification and implementation of evidence-based programs and practices."
Despite SAMHSA's claims that the agency will carry on NREPP's work, the Washington Post reports that no new treatments have been added since September. An estimated 90 vetted programs are yet to be set up.
SAMHSA held that its Policy Lab would take on the registry and help in "identifying and disseminating evidence-based practice and programs."
Trump officials have not given any explanation as to why the registry was frozen.
Since 2015, the NREPP database has included evidence that some interventions don't work, which saves practitioners a lot of time and resources.