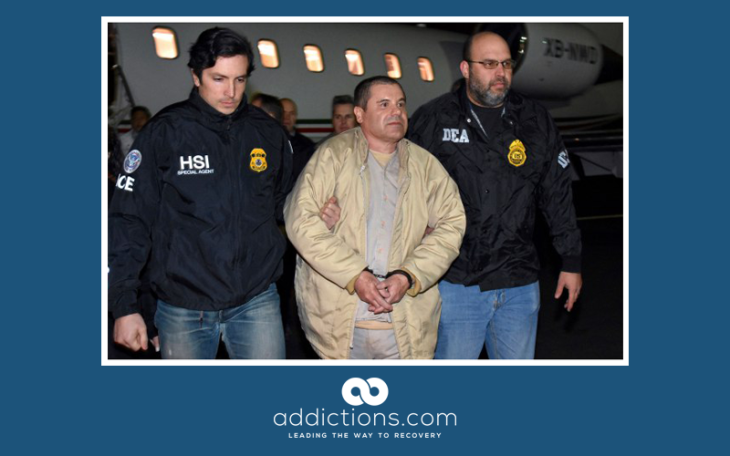 Mexican drug lord Joaquin Guzman, known worldwide as "El Chapo," goes on trial for drug conspiracy charges in New York next week. Jury selection has begun today in Brooklyn.
Guzman, infamous after two prison escapes, stands accused of overseeing a massive drug cartel that smuggled huge amounts – measured in tons – of cocaine into the United States using aircraft and boats. As boss of the Sinaloa Cartel, Guzman also had witnesses against him murdered, something that has caused some stress and extra security as his trial gets going.
Opening statements from lawyers involved in the trial are set to begin Nov. 12 or 13.
Witnesses slated to testify in this widely watched case are mostly anonymous government informants, whose names have been kept secret in court filings and whose identities are carefully protected by prosecutors. Some of them are already in witness protection programs, while others are kept in especially secure prison cells for their safety.
Two brothers who may testify in Guzman's trial – Margarito and Pedro Flores – who helped record him on phone calls have already lost their father to killers sent by the cartel.
Security has been beefed up at the courthouse in New York City, too, with extra police, federal security officers, bomb-locating dogs, and several sets of metal detectors.
Members of the jury for this trial will also have their identities protected, prosecutors say. They got the consent of the judge, Brian Cogan, that jurors' names should be withheld. Guzman's history of murdering or kidnapping people who oppose him led the judge to agree to the move.
Because in the past Guzman kept running part of his drug operations from Mexican prisons (which he also escaped from), authorities have housed him in solitary confinement in a Manhattan federal jail cell. To get him from there to the courthouse across the East River in Brooklyn for previous hearings required an armored motorcade and street closures, including the Brooklyn Bridge. The judge doesn't want to continue that disruptive procedure for the trial itself, which could last months, but no alternative arrangements have yet been made public.
Guzman, who is 61, may be kept in a special, secure cell in the Brooklyn courthouse itself during the trial, but this is an unconfirmed rumor as of now.
Guzman escaped from prison in Mexico the first time in 2001. The second time he escaped, more than a decade later (he'd been recaptured in 2014), it was via a kilometer-long tunnel dug to the shower near his cell.
In 2017, Guzman was extradited from Mexico to the United States.