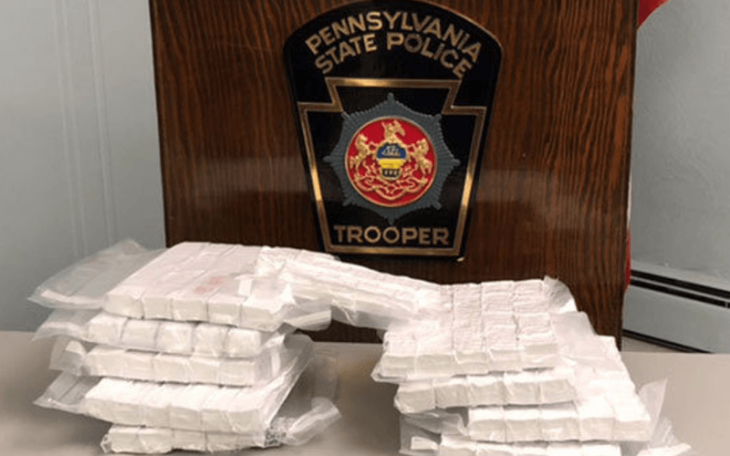 A Pennsylvania state trooper who pulled over a Jeep with a broken rear light on the Pennsylvania Turnpike ended up finding $500,000 in heroin in the vehicle.
David Manuel Mora, age 22, was stopped as he drove westward by Pennsylvania state police in Mt. Pleasant Township, not far from Pittsburgh, Feb. 1, 2018. The police officer was suspicious of Mora's behavior – police are often trained to look for psychological signs that a person is lying or concealing something – and thought the driver might be carrying contraband.
When the officer asked permission to search the vehicle, Mora assented. The Jeep had a cleverly hidden compartment – it opened and closed using hydraulics – with 25,000 bags of heroin in it. Investigators estimated the haul of heroin could be worth up to half a million dollars if sold on the street.
The heroin was in small bags, carefully prepared for delivery and sale, investigators said. The most likely market for the drugs was the Pittsburgh metro area.
Although Mora lives in Philadelphia, he's from the Dominican Republic, police said. They transported him to Westmoreland County Prison in Greensburg, and he's being held there on a cash bond of $2.5 million.
Police suggested that the mechanical know how that went into building the "trap" in the Jeep could have been better employed in some technical trade, rather than wasted on criminal activity.
Mora could be charged with other offenses, police said. This was one of the biggest drug busts in Westmoreland County's history.
Many of the illegal drugs in the Pittsburgh area, and across the Keystone State as a whole, are smuggled from Mexico and are carried on the state highways in vehicles just like this, police said.
Mora may have counted on the cleverness of his hidden compartment to fool police searching his Jeep, which may explain why he agreed so readily to a search.