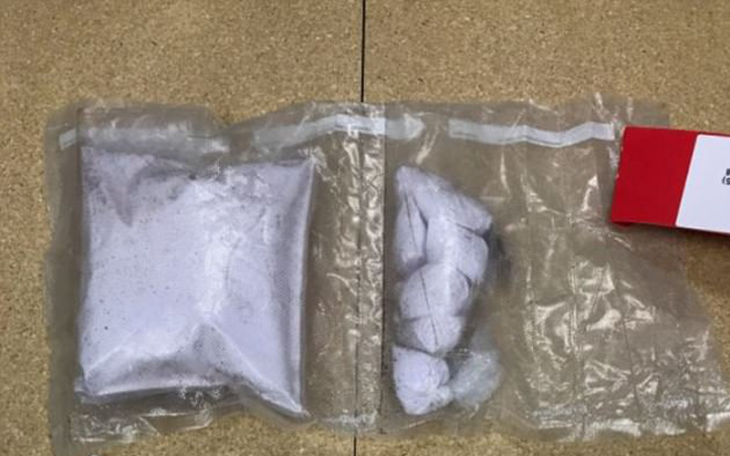 Three Texas residents have been arrested and charged with the intent to distributed regulated substance after they were found in possession 1 million dollars' worth fentanyl, an opioid drug linked to over 20,000 drug overdose deaths in 2016 according to CDC.
Anthony Robinson 32, Darrius Lewis, 29 and Barbara Wilson 21 were arrested by Ohio authorities on Tuesday after police learned that a suspicious trio had logged into Red Roof Inn, Lucas County.
Police recovered 1.1 lbs of fentanyl, $8,500 cash from their hotel room and upon interrogation, the trio led police to a post office in Toledo where 2.2lbs of the drug was found concealed in a package they were mailing to Houston, Texas.
According to the affidavit, the motel manager raised the alarm over what he said were three people acting 'strange.' The police are then said to have watched the suspects drive in different cars. Robinson was seen entering the post office carrying a package while returned the rented car and went back to the inn using Robinson's vehicle.
The police then obtained a search permit which led to the discovery of the drug leading to their arrest.
Steve Francis, a special agent from the Department of Immigration and Customs Enforcement said fentanyl is a risky artificial opioid with harmful effects to its users.
Fentanyl is a pain and depression medication often prescribed to patients with chronic illnesses like cancer, major trauma, nerve damages among others.
The drug is however abused by users due to its intense feeling of pleasure and is added to heroin without their knowledge, a factor attributed to many linked deaths according to Centers for Disease Control and Prevention.
Fentanyl is up to 100 times stronger than morphine and more times than heroin with three milligrams of fentanyl(enough to kill an adult) equivalent to 30 milligrams of heroin. People, therefore use it with the same measure to heroin without knowing the power of the lethal substance.
Justin Herdman, a US Attorney, said the amount of the drug recovered was enough to cause the deaths of the whole population in Toledo over and over.
The affidavit records show the two male suspects have had a past of previous apprehensions and sentences for drugs and firearms-related felonies. Robinson was out from jail in February this year.
More questioning by investigators Robinson and Wilson claimed to be half-relatives who drove from Texas to attend a wedding from Robinson account while Wilson said they were attending a proposal party. Lewis said he was from Houston.
The three on Wednesday had the first appearance in court and were charged with conspiracy with the intent to distribute a controlled substance.
The accused will appear for a pretrial hearing on March 29.