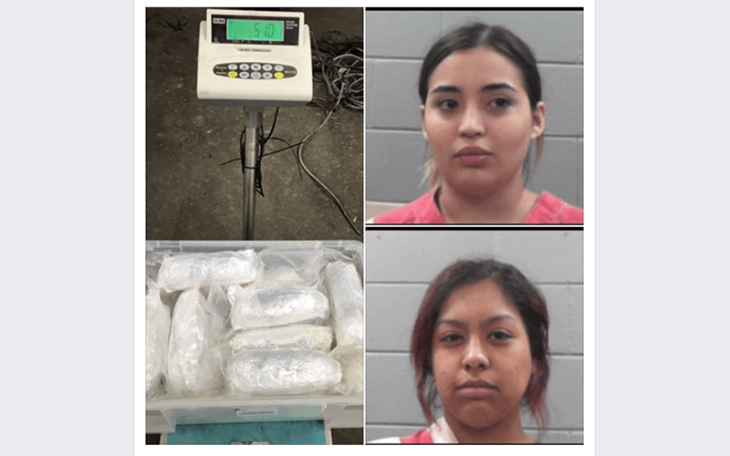 A three-month-old child has become one of the latest casualties in the current drug epidemic within the United States.
Two women were arrested after a traffic stop by a Rankin County drug task force, resulted in the seizure of 51 pounds of Heroin.
Arlene Viridiana Moya (23) and Trisha Lynne Ibarra (23), both from Laredo, Texas,  were arrested after a white Ford SUV driven by Miss Moya was stopped in Rankin County in January.  It is, as yet, unclear as to whether the two women have previous convictions in either Rankin County or their hometown of Laredo.
After Moya, who was driving, consented to a search of the vehicle, a Deputy
discovered 51 pounds of the drug – which has an estimated wholesale value of $2 million and a street value of $10 million – concealed within the vehicle.  Shockingly, officers also confirmed that Trisha Lynne Ibarra's three-month-old child was also found inside the vehicle.
Toxic and highly addictive, Heroin is an illegal and deadly drug which can be smoked or injected for recreational use.  The drug ranges in appearance from a white to dark brown powder and can sometimes come in a brown/black form that looks like hard toffee.  Figures show that, in 2016, 64,070 people in the United States died as a result of Heroin abuse – a death toll which tops that of the Vietnam War.  Across America, new initiatives are being introduced in an attempt to curb what is being called a drug epidemic due to the sharp incline in cases within a short period.
After their arrest, Moya and Ibarra were both booked into the Rankin County Jail and charged with aggravated trafficking of heroin, which is a fourth division felony and carries a penalty of at least ten years in prison.
Ibarra is also likely to be charged with child neglect or endangerment offense.  In the meantime, a judge has ruled that the child be taken into the custody of Child Protective Services.