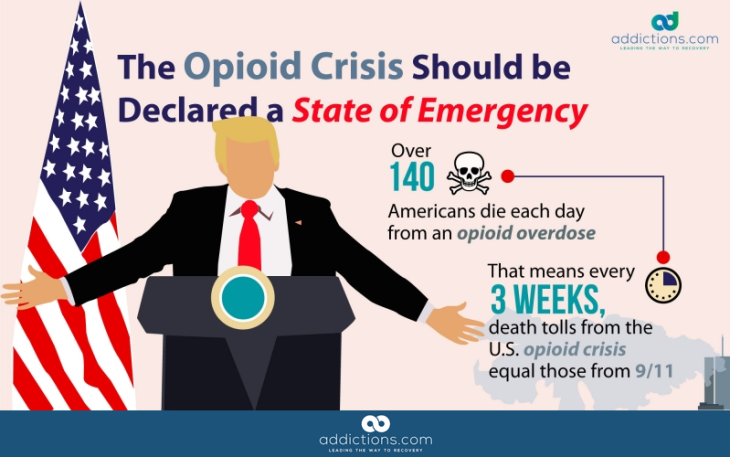 Although steps to cut down the number of opioid pain drug prescriptions have started to take effect in the United States, research released Wednesday shows opioid overdose deaths are still climbing.
A study by the American Action Forum reveals that heroin and powerful synthetic opioids are causing more deaths, even as doctors cut back on pain pill and pain patch prescriptions.
Opioid medication prescriptions have fallen since 2010; the study said the numbers have snowballed – 14.3 percent a year growth from 1999 to 2010. Since 2010 the number of such drugs dispensed by doctors has dropped about 4.3 percent per year.
Along with that decrease in prescriptions, opioid medicine overdose deaths in the United States didn't decline, but they grew at a slower rate. In the decade before 2010 opioid prescription fatalities were increasing about 13.4 percent per year, but after that year, as prescriptions fell, the death rate from doctor-dispensed medicines rose at only 4.8 percent per year.
Even with that decline in doctor's prescriptions, the overall rate of deaths by opioid overdoses grew from 9.1 percent in the period before 2010 to 12.3 percent afterward.
The reasons behind the continued increase, the American Action Forum said, were wider availability and abuse of heroin and particularly potent synthetic opioid drugs. Heroin overdose deaths grew by about 4.1 percent per year from 1999 to 2010 but grew at 31.2 percent after that.
Meanwhile, the annual growth rate from synthetic opioid drug overdoses grew from 13.7 percent before 2010 to a whopping 36.5 percent afterward – that is the rate of growth every year in the number of deaths.
Although some synthetic drugs are still likely to be produced domestically, the study emphasized the growing "transnational" nature of such drugs. Made in China, drugs like fentanyl can be sent to buyers in the United States in the ordinary U.S. mail, as a recent Senate investigation discovered.
Other powerful drug gangs in Mexico and Central America manufacture synthetic opioids and smuggle them into the United States for distribution to dealers and eventual sale.
The cost of the opioid epidemic cannot be calculated perfectly, but some studies have shown that it could already have cost the country a trillion dollars – reckoning up lost productivity, health care costs, future earnings lost by dead workers, and insurance burdens. The epidemic has been figured to cost as much as $500 million over the next three years in some studies.
The American Action Forum said that use and misuse of prescription pain drugs in that early 1999 to 2010 period whetted people's appetites for opioids, and when public policy changes started decreasing easy access to prescription drugs, criminal gangs seized the opportunity to satisfy existing demand and make up the difference.
According to figures in the study, 42,249 people died in the United States in 2016 from overdoses involving opioid drugs. Such drugs are now driving a steady increase in the number of overall drug-related deaths in the United States.