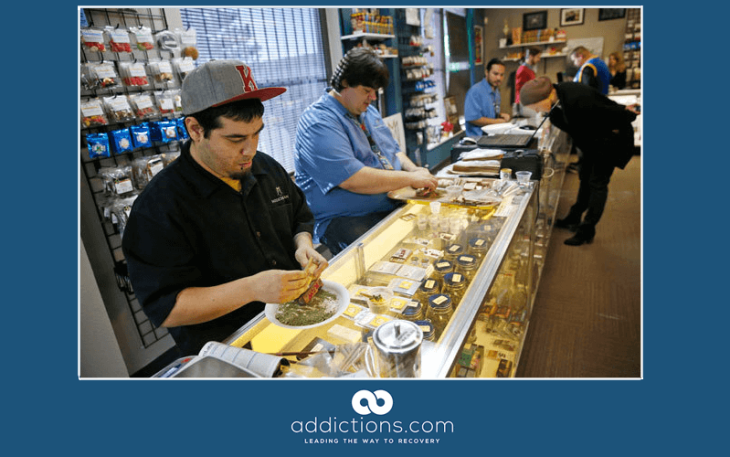 Research revealed states that have legalized medical, and personal use of marijuana, seem to have fewer prescriptions for opioid painkillers.
Two studies, both published today in the journal JAMA Internal Medicine, show that states which have legalized marijuana have fewer doses of opiate painkillers prescribed by doctors, based on Medicare and Medicaid data.
One study, done by Ashley C. Bradford, W. David Bradford and Amanda Abraham at the University of Georgia, discovered an 8.5 percent drop in doses of opioid painkilling medications paid for through the Medicare Part D program in states where medical marijuana was legal. The Part D program, also known as the Medicare prescription drug benefit, helps pay for medications purchased by people in the Medicare program.
This research also showed there was a bigger drop, 14.4 percent, in prescriptions for such drugs in states that permit operation of medical marijuana dispensaries, when compared against states where pot is against the law.
When states permitted people to grow some pot in their home, they typically saw a 6.9 percent drop in doses of opioids prescribed by doctors.
Many experts believe marijuana is a more effective long-term treatment for chronic pain, better than many of the opioid drugs doctors often prescribe to treat it.
Although the University of Georgia study looked at medical marijuana, another study found that recreational pot legalization might also help to reduce the use and the misuse of opioid drugs.
Two researchers – Hefei Wen from the University of Kentucky and Jason M. Hockenberry from Atlanta's Emory University – looked at legalization of both medical and recreational cannabis and found drops of 5.88 percent for medical pot states and 6.38 percent after the legalization of personal, recreational marijuana use.
Both sets of researchers summed up their work by saying more liberal laws around marijuana possession and use could make a significant impact on the ongoing opioid abuse epidemic in the United States. A substantial part of that epidemic is driven by the easy availability of prescription pain drugs like fentanyl. Reducing the number of medical prescriptions for such drugs – either by cutting people's demand for them or by educating doctors to write fewer of them – could make a big difference, experts say.
Marijuana can help treat chronic pain, but it is much less risky than opiate medications like fentanyl, which can kill in even tiny amounts.