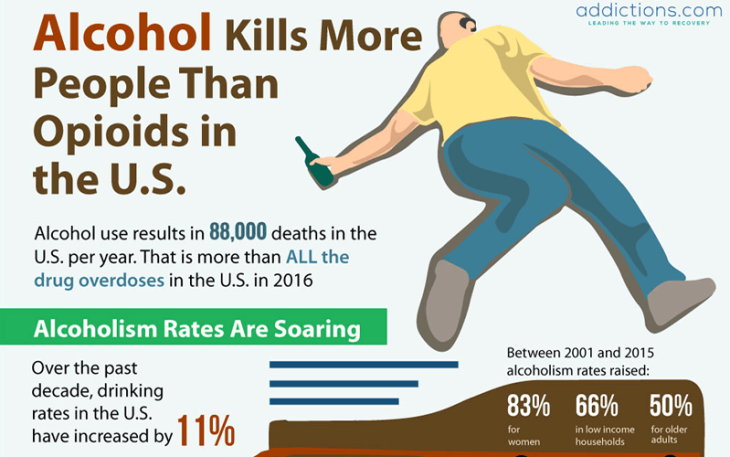 Research published in the medical journal The Lancet turns previous conclusions about the health benefits of drinking upside down and says that more than moderate and occasional drinking could take years off people's lives.
It was found that cutting the recommended "safe" levels of alcohol consumption for men roughly in half, from 196 grams per week (about 14 drinks) to just 100 grams, could add one or two years to drinkers' lives.
Though it's long been common knowledge that truly excessive or "binge" drinking has harmful health effects such as liver disorders, alcohol's boosters have often touted the purported health benefits of an occasional glass of wine. But after crunching data from nearly 600,000 people, this new study redefines "occasional" to mean quite a bit less drinking than many national guidelines suggest for good health.
The researchers did say that drinking beer or spirits, rather than wine, seemed to be more dangerous, as was binge drinking.
Drinking alcohol, the study said, is associated with higher risk for stroke and coronary artery disease. It also increases chances of heart failure, hypertension, and aortic aneurysm.
Only myocardial infarction rates went down among drinkers in this study. But scientists cautioned that drinking's downsides more than made up for this small health benefit.
Researchers estimated that even as few as two drinks per day, or even fewer – just 10 in a week – might cut a whole year or two off the drinker's life expectancy if they kept drinking at that rate continuously after age 40. Those who drank more than 18 drinks in a week, the study reported, were likely to live four or five years less than if they didn't drink that much.
Health guidelines in different nations disagree with each other about how much is too much to be safe – in the United Kingdom, health rules suggest no more than 14 "units" of alcohol in a week, which works out to about seven glasses of wine or six pints of beer.
United States health authorities have set their upper limit for healthy drinking nearly twice as high as in the U.K., while other nations such as Italy fall somewhere in between. The U.S. says men should drink fewer than two drinks per day – 14 in a week – to avoid health problems. For women, who tend to be more gracile than men, U.S. guidelines suggest just one drink per day.
Data in this broad study came from 19 nations and combined results from 83 different research reports on alcohol and health.
Although alcohol is known to be able to push up blood pressure and cholesterol levels, researchers still phrased their findings in statistical terms, rather than direct causation, saying drinking more than 100 grams of alcohol per week was "roughly linearly associated" with more strokes, aneurysms, fatal hypertensive disease, and so on.
The researchers, led by Angela Wood of the University of Cambridge, said that their results mean that many countries should rethink their health agency guidelines on how much alcohol consumption is safe.
Scientists found "no clear thresholds" or lower limits below which less drinking stopped improving health outcomes. In other words, as participants in the study drank less and less, down to zero, their statistical health indicators and longevity continued to improve. In this way, the study echoed some of the public health warnings about smoking, which is damaging to health and longevity even in tiny amounts.