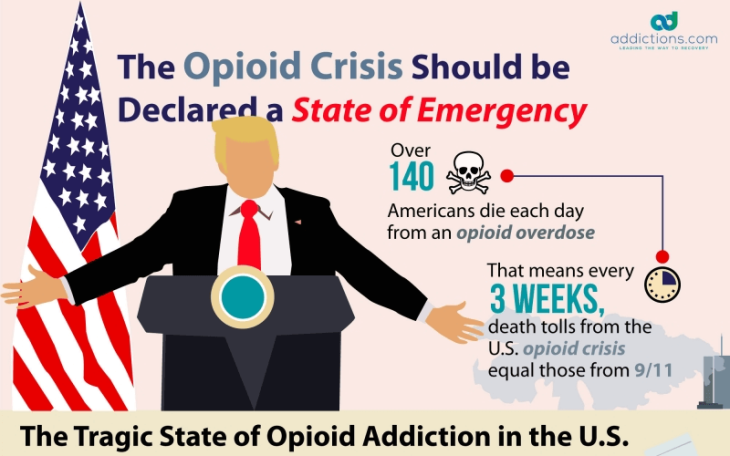 A trillion dollars have been lost by the United States due to opioid abuse since 2001, according to a new study by healthcare industry nonprofit Altarum.
Between 2001 and 2017, the Washington, D.C., based organization said, the cost of the opioid abuse epidemic exceeds $1 trillion, and it is rising fast. Altarum forecasts costs will add $500 million more by 2020.
Back in 2001, the annual cost of opioid abuse in the United States was $29.1 billion. By 2017 that price had jumped to around $115 billion (Altarum figured its losses in 2016 dollars). Between 2011 and 2016 annual costs grew twice as quickly as they had the preceding five years.
In computing these figures, Altarum counted lost wages of those who died due to drug use or overdoses as well as estimates of lost productivity by people using drugs or taking time away from work for abuse problems. The nonprofit also estimated declines in governmental tax revenues as well as higher costs for health treatments, community drug counseling and treatment services, education and the costs of criminal investigations, arrests, and prosecutions.
Given an average age of 41 for those who die by drug overdose, Altarum figured an average of $800,000 in lost wages for each person. Those unearned dollars also impact government at all levels through losses in taxes. Because an increasing number of younger people have been dying in recent years, those figures have been rising.
Altarum estimates that 62,500 people died due to opioid overdoses in the United States in 2017.
Health care expenses – emergency room costs, use of anti-overdose drugs like naloxone, ambulance transportation, and higher chances of infection by associated diseases – were about $215.7 billion from 2001 to 2017. Much of that cost has hit the nation's Medicaid system, particularly since its expansion in 2014 under Obama Administration regulations. Although fewer uninsured people overdose under new rules, Altarum said, states have had to pay more health care costs.
As an illustrative example, Altarum focused on one location – Lorain County in Ohio, where the opioid overdose rate is 2.5 times the U.S. average – and calculated total costs of $200 million there, including $139.8 million in lost wages and productivity.
In its report, the nonprofit called for better training for medical professionals about the use of and prescription of opioids, changes to allow insurance coverage of more treatment programs, and a better understanding of how people recover from drug addiction, and how long it takes for them to recover.