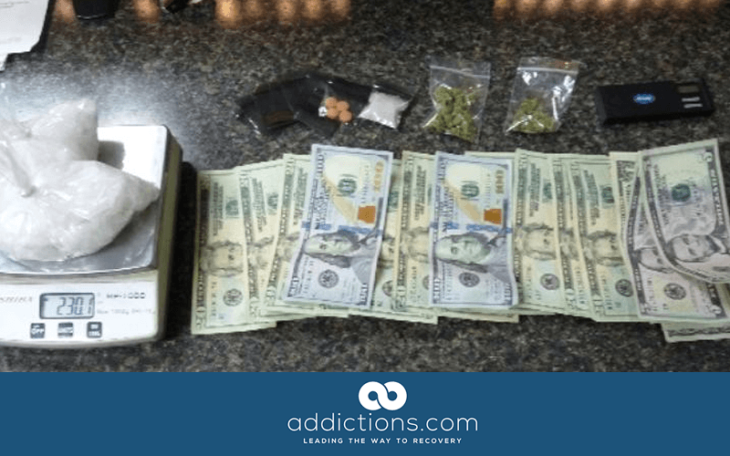 In Lewis County, Kentucky, police announced the largest meth bust on record in their county's history. As part of the bust, the sheriff's department charged a Greenup County man, Ollin Driggers, trafficking the meth, as well as with possession of marijuana and drug paraphernalia.
According to WSAZ, a local news agency, Driggers was arrested after drawing the attention of the police for a traffic violation. Deputies were investigating suspected drug activity and were conducting surveillance in the area.
A half-pound of a substance that the authorities believe was crystal meth seized from Driggers, along with other narcotics and cash. The street value of crystal meth is roughly $80 to $100 per gram. There are approximately 230 grams in a half pound, making the street value of what was seized between approximately $18,400 to $23,000.
Driggers was booked into the Lewis County Detention Center. The police have indicated that more charges are expected against additional suspects.
There was no information released about whether or not Driggers had bail set or the amount. No details were released regarding the arraignment or additional court dates. There was no information released regarding whether Driggers had hired an attorney or if one had been assigned to him by the courts.
Sheriff Johnny Bivens stated after the arrest that the police are thankful they intercepted the meth before it reached its intended target, as its impact would have been detrimental to Lewis Country.
There was no indication that a search had been done of Driggers' residence or if any other drugs had been found and seized.
It is estimated that more than 1.5 million people are addicted to crystal meth in the United States alone, and the number has continued to grow despite legislation attempts to reduce those numbers through greater enforcement of tougher laws on the manufacturing and sale of meth.
Crystal meth can have a great physical impact on the user's body, including sores on the skin and evidence of the toxins coming out through the user's skin. These toxins can also negatively impact other organs within the body, leading up to an overdose.