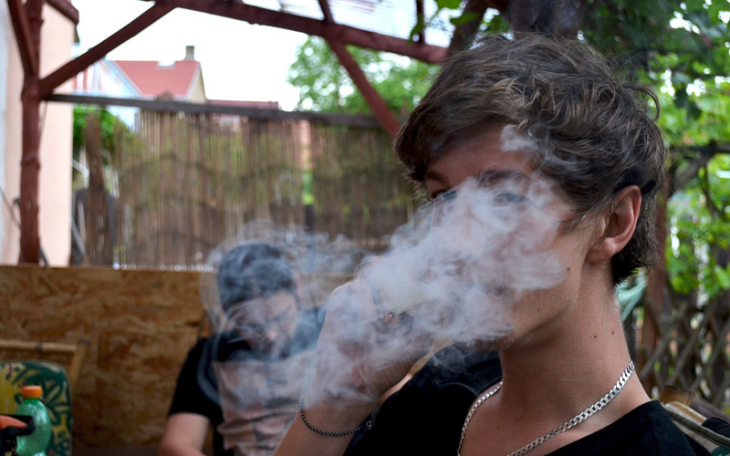 Secondhand smoke from marijuana is dangerous to human lungs, according to a new study, and it may even be more deadly than ordinary cigarette smoke.
The U.S. Centers for Disease Control and Prevention have already identified some 7,000 chemicals in cigarette smoke, of which 70 or so are carcinogens. According to the Atlanta-based agency, breathing any secondhand smoke, whether from burning tobacco or burning marijuana, isn't safe.
A new study reveals that even one minute of exposure to secondhand smoke from marijuana causes significant impairment in a person's arteries. Research completed primarily at the University of California; San Francisco shows a need to change the public's understanding of how dangerous secondhand pot smoke can be.
Too many people still think secondhand marijuana smoke is safe, according to the study, published in the Journal of the American Heart Association.
The authors, led by Xiaoyin Wang of UC San Francisco, found that even brief breathing of secondhand marijuana smoke causes acute vascular endothelial dysfunction, i.e., a problem in the function of the walls of arteries that can ultimately lead to coronary artery disease and other similar disorders.
Using rats as a test subject, the researchers measured blood flow in the large femoral artery, then exposed the subjects to tobacco smoke or pot smoke. Both types of smoke caused increased dilation and blood flow in the rats' femoral arteries. But recovery from the exposure took nearly three times as long for pot smoke than for tobacco smoke.
Cannabinoids in marijuana smoke affected vasodilation as well, increasing recovery times, the study said. Even correcting for the effects of cannabinoids – some tests involved marijuana that didn't contain cannabinoids – the problems persisted for 90 minutes after exposure to pot smoke, compared with about half an hour for regular cigarette smoke.
Habitual smokers already have impaired regulation of blood flow in their arteries, whether or not they are smoking at the time.
Scientists said that because smoke comes from burning something – whether tobacco or marijuana – it usually contains many of the same or similar toxic compounds. Tiny particles of smoke damage the lungs and arteries and are ultimately fatal.
About 50,000 deaths a year occur in the United States from secondhand smoke alone, the researchers concluded. When laws against smoking in public are passed, they said, hospital admissions drop for smoking-related troubles such as acute myocardial infarction, stroke, and lung diseases.
Because marijuana has been outlawed in most states – and is still illegal under federal law – it has not been very easy for scientists to study it or the effects of breathing its smoke until recently.
Ongoing legalization of recreational and medical pot in many U.S. states means the public health consequences of smoking it should be studied, the report said.
Tobacco smoke from cigars was also studied and had similar detrimental effects to cigarettes.
Work was done at the University of California's San Francisco campus. Scientists in the study got permission from the Drug Enforcement Agency, the Food and Drug Administration, and the university's department of health and safety to procure and study marijuana cigarettes. They used pesticide free pot in the tests.