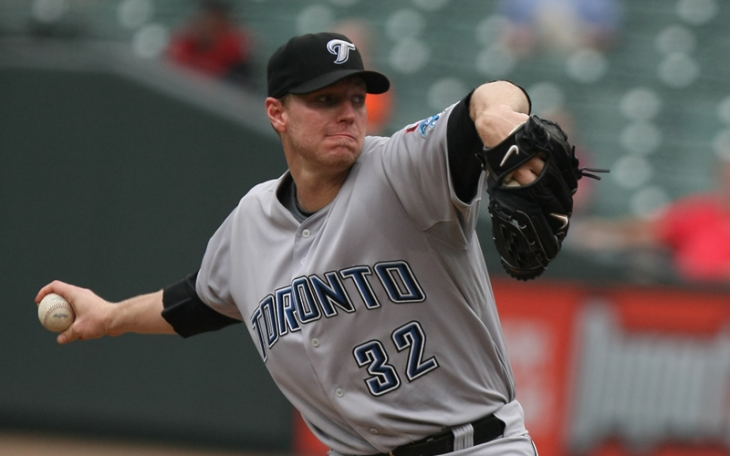 An autopsy has revealed that former Philadelphia Phillies pitcher, Roy Halladay had a fatal amount of drugs in his body when he crashed his Icon A5 light sports aircraft.
The troubled former baseball star was behind the wheel of the aircraft when it crash-landed in the Gulf of Mexico on 7th November 2017.  Onlookers reported seeing the plane flying erratically over homes in New Port Richie, Florida before Halladay seemingly lost control and crashed into the sea.  A witness told investigators that Halladay's plane climbed to between 300 and 500 feet before going into a 45-degree dive and slamming into the water.
The autopsy, which was performed in January of this year, revealed that Halladay's system contained a lethal amount of powerful amphetamine, morphine, and Zolpidem, a drug used to treat insomnia.  After reviewing the report, Dr. Mitchell Garber said of the level of drugs in the star's body, "That amphetamine level shocks me. The level taken from Halladay's cardiac blood was 1,800 ng/ml. I saw that number and said, 'Am I reading that right? 1,800, holy cow.' That jumps off the page at me."
Although the autopsy stated the official cause of death as blunt force trauma coupled with drowning, the level of drugs in Halladay's system was almost certainly a contributing factor.
Dr. Garber explained that 500 ng/ml of Amphetamine in the system can cause death and that an overdose can produce many symptoms and could cause the reckless piloting of an airplane or debilitate the pilot with convulsions, hallucinations, restlessness and cardiac arrest.
Dr. Dennis Shanahan, an expert injury analyst whose career has included the U.S. Army Aeromedical Research Laboratory, suggested that Halladay was still breathing after the plane crashed into the water, but that other injuries sustained during the impact would most likely have incapacitated him.
During an illustrious career, two-time Cy Young Award winner, Hallyday, 40, known as 'Doc' enjoyed success with The Toronto Blue Jays and The Philadelphia Phillies before his retirement from professional baseball in 2013.  A prolific social media user, the star tweeted a photograph of himself standing next to his light aircraft on October 17th, 2017, with the caption, "I have dreamed about owning an A5 since I retired! Real life is better than my dreams!!"
The autopsy findings come as a shock to the baseball world with many of Halladay's close friends and family saying that they had no idea that the father of two was battling any issues with drugs, prescription or otherwise.
The popular player's funeral, last November, was attended by former team-mates and baseball executives as well as friends and family.
Following the fatal crash, police are also investigating reports that some boaters in the area took photographs and video footage of the aftermath of the crash but made no effort to help.
A spokesman for the NTSB said, 'Search and rescue, together with survivability factors are elements of our aviation accident investigations and we will be reviewing statements from the boaters which will become part of the investigation."