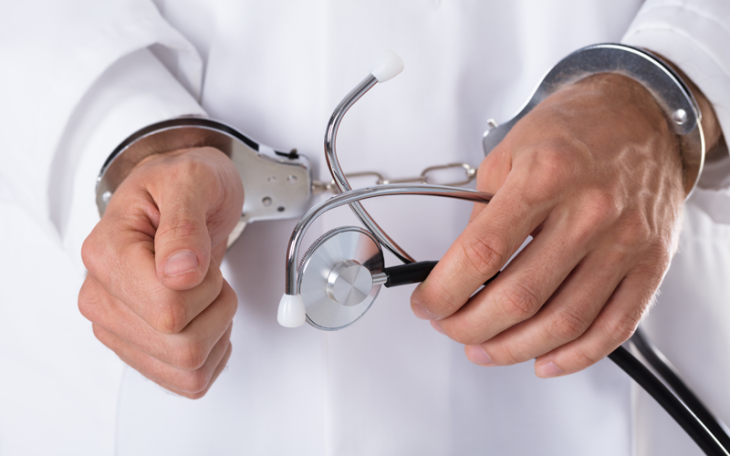 A disgraced Rhode Island doctor who admitted to receiving just under $200,000 worth of kickbacks from Insys Therapeutics Inc. of Arizona for prescribing a highly addictive fentanyl-based Opioid spray was sentenced Friday to over four years in federal prison -officials said.
Prosecutors asked the federal judge in Providence, R.I, to sentence Jerrold Rosenberg, 63, to 70 months behind bars for allowing the bribe to corrupt his medical judgment.
Rosenberg admitted prescribing Subsys in return for kickbacks from the drug maker. While sentencing Rosenberg, a U.S. District Judge -John McConnell- told him off for the "intolerable" act adding that it represented "a grave betrayal of the duty every physician owes to his or her patients."
The U.S attorney said eight patients had been adversely affected, including three overdoses which necessitated Narcan to be administered.
The prosecutors said that patients with chronic pain had trusted the doctor, only to be prescribed Subsys, a drug which has been approved for people with cancer by the FDA. According to the prosecutors, two patients almost died from Subsys overdoses.
During the sentencing, three Rosenberg's patients testified about the drugs "severe and debilitating" effects. One of the patients, Daisy Medina, claimed to have become addicted to Subsys. The doctor is also reported to have bullied one patient complaining about the effects of the spray, telling her to "stop crying" and that she was "acting like a child."
In a statement to the court, the doctor recounted his medical career and sought apology for the outrageous the actions. "I have let a lot of people down including myself… I am truly sorry for what I've done," Rosenberg said, while also admitting that he allowed his integrity to be compromised.
Consequently, he surrendered his medical license and lost Brown University's medical school appointment. As part of his plea agreement, Rosenberg waived his decision appeal rights.
Rosenberg was also ordered to pay $754,736 in restitution for falsely prescribing the drug. He is scheduled to report to prison on March 30th as ordered by the Judge.
The rogue doctor is among several other medical practitioners and executives of Insys who have faced similar criminal charges including its billionaire founder-John Kapoor whose trial is slated for 2019.
According to the prosecutors, Kapoor and others participated in a scheme to bribe medics using sham speaker programs meant for educating healthcare practitioners about Subsys.
A month ago, Gavin Awerbuch- Michigan Pain MD- was given a prison sentence of two years for taking fake Insys' "speaker fees" to prescribe Subsys for no purposes. Another doctor in Alabama, John Couch, also got 20 years behind bars for medical racketeering.
Other Insys Therapeutics Inc. executives are also being pursued for possible prosecution. Insys says it may need to pay over $150, million to resolve the probe by the US Justice Department.