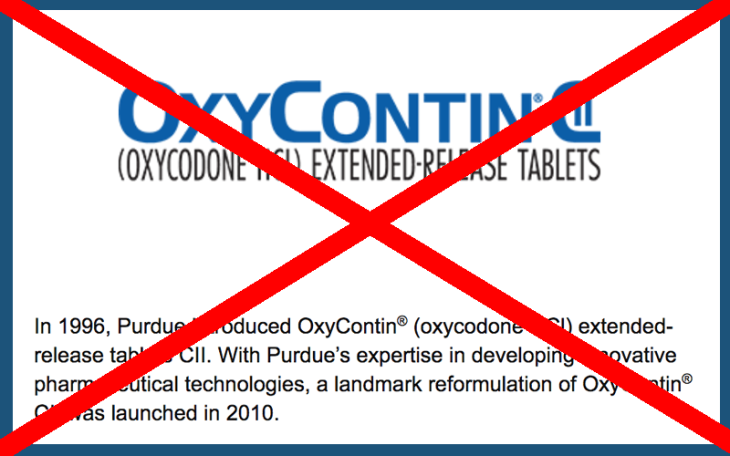 Purdue Pharma L.P., which makes the best-selling opioid painkiller in the world, plans to stop marketing that type of drug to doctors.
The Stamford, Conn.-based giant broke the news on a Saturday (Feb. 10, 2018) had in the past paid fines of $600 million for the way it represented the drug and its risks to doctors and the public.
Purdue said it laid off some 200 sales representatives whose jobs centered around flogging OxyContin to doctors. That's about half its sales force. The 200 or so salespeople left at Purdue will concentrate on marketing other, non-opioid drugs.
OxyContin, first released in the late 1990s, had brought in billions of dollars in sales for Purdue, which now also sells another opioid painkiller called Hysingla, approved by regulators in 2014, the painkilling effects of which are said to last longer. OxyContin itself is a time-release drug, spreading the anodyne impact of oxycodone over 12 hours.
Although OxyContin's time-release formula was supposed to be quite tamper-proof, drug abusers eventually discovered how to grind up the pills and get a strong hit of the drug in a single dose. Other people took too many of the pills or used them too often when the pain relief of a single dose didn't last for the full 12 hours.
Purdue created a harder-to-abuse formula for OxyContin in 2010 and stopped selling the original version.
Though for years Purdue downplayed or denied OxyContin's potential for abuse or its addictive qualities, news and governmental reports began to point to problems with abuse of the drug.
Purdue Pharma is majority owned by the Sackler family, which has been criticized in the media for the way the drug OxyContin was marketed.
In 2007, three high-level Purdue Pharma executives pleaded guilty to charges related to the misleading branding of OxyContin – they paid fines and did community service in the area of drug addiction.
Since then, some U.S. cities, states and other governmental entities have sued Purdue Pharma and other big drug companies over the impact of opioid abuse and addiction on their communities. Purdue settled one suit, with the state of Kentucky, in late 2015, for $24 million.