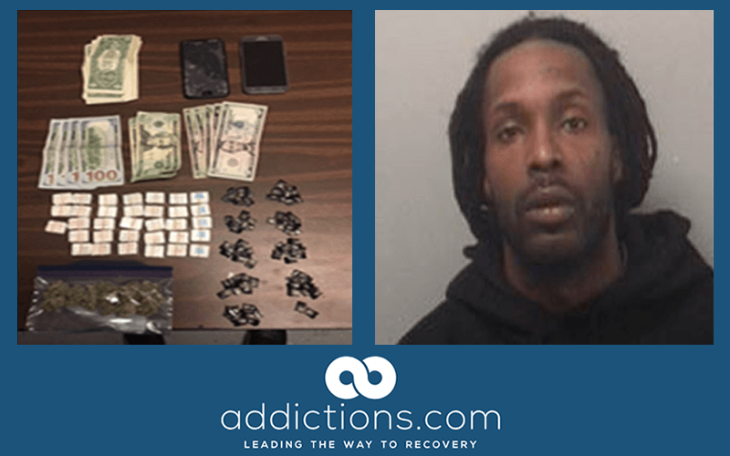 A man on parole in New Jersey showed up at a parole supervision event Feb. 1, 2018, at a church in Paterson carrying heroin, crack cocaine, cash, and three cell phones.
Police said Tyrone Brown, 31, was already on their radar after one alleged violation of his parole. Detectives tracked him down at an evening parole supervision event at St. Paul's Episcopal Church in Paterson. When they checked with a parole officer outside the church even, they got confirmation that Brown was inside, went in, and arrested him.
When they searched him, Brown was found to be carrying heroin in 328 glassine envelopes in a pocket of his sweatshirt, packed into a plastic zipper bag. He also carried 92 baggies of crack cocaine plus 19 grams of pot. His heroin was branded "12STRONG" and "Frank Lucas" in bright colors, according to local news reports.
Because of the number of narcotics he carried – worth about $2,100, authorities estimated – and the way they were packaged for easy sale, Brown was charged with intent to distribute cocaine and heroin in addition to possession charges.
Brown had three different mobile phones with him when searched, and he carried $486 in cash, the local sheriff's department said.
Passaic County sheriff's officers carried out the arrest at 8:45 p.m. Thursday. They'd already been seeking him for a third-degree drug offense that violated his supervised release conditions. He is being held in Passaic County Jail on seven separate charges.
Previously, Brown was jailed for eight months due to drug convictions in Passaic County and Ocean County, further south.
Paterson is the county seat of Passaic County, which borders New York. St. Paul's Episcopal Church, at East 18th and Van Houten streets, is one of the city's most prominent churches.
Richard Berdnik is Passaic County's sheriff. Brown, the arrested man, is a native of Paterson.