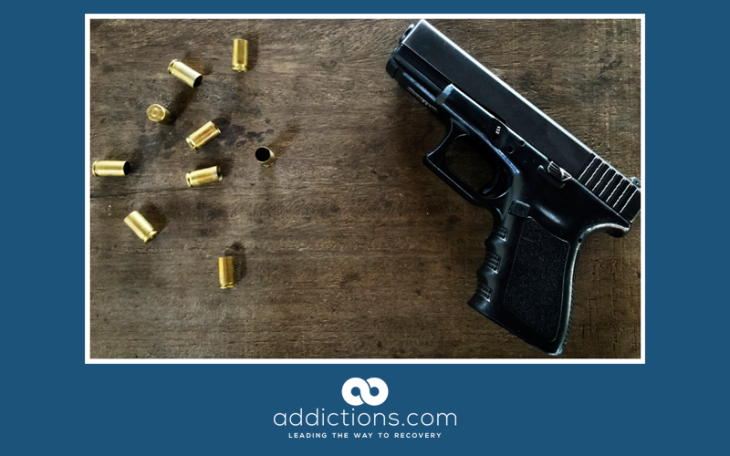 As the gun debate continues to rage in the USA, experts say that opioid-related deaths have now matched the number of those caused by firearms.
It has been announced that President Donald Trump is set to unveil plans for a three-pronged attack in the war against drugs.  The strategy will focus on law enforcement, education, and funding.
Newly published statistics show that the current opioid epidemic in the USA kills as many people, annually, as guns do.  The new report, which uses figures from 2016, shows that 32,445 fatalities in the USA were attributed to opioids; an increase of nearly 10,000 from the previous year.  Firearms, which have consistently been among the five leading causes of death in the country, was responsible for the deaths of 38,658 people – a difference of just 6213 people.
The reason that we refer to the opioid crisis as an epidemic but not the gun issue is that, while firearm deaths have been consistently high over time, opioid-related deaths have seen a sharp incline in a short amount of time.  Although the term is attributed to illness and disease, it is more than appropriate for the current opioid situation.
President Trump's new strategy echoes, in some ways, former First Lady Nancy Reagan's efforts to curb drug use, but promises to be much tougher.  In the 1980s, Nancy Reagan's 'Just Say No' campaign fell short of its goals because it did not include the tools necessary to tackle the economic, social and educational foundations of the drug problem.
President Trump's strategy, which has been formulated alongside his wife, First Lady Melania Trump, promises to confront the opioid epidemic with new treatment centers, employment programs and tougher penalties for drug traffickers – including, in some instances, introducing the death penalty for persistent, high volume offenders.
The first lady, Melania, recently gave a talk on the issue at Manchester Community College and spoke about her time spent with doctors in Cincinnati where hospitals have seen an alarming increase in the number of newborns and infants experiencing opioid withdrawal
Although guns will no doubt remain a current and emotive subject within the USA, urgent attention to the opioid crisis is needed to prevent those numbers going any higher.