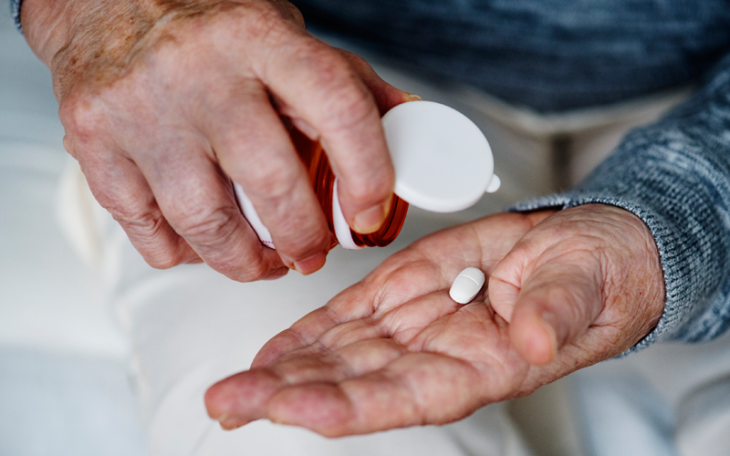 Opioids don't control chronic pain any better than their non-opioid alternatives, says a study published in the Journal of the American Medical Association.
Researchers studied 240 patients in a yearlong clinical trial to learn the effectiveness of different drugs on chronic back pain or pain in the knee or hip joints.
The study, published March 6 in JAMA, recruited patients from Veterans Affairs clinics with moderate to severe pain that hadn't responded to analgesic treatment. Researchers randomized the subjects and treated some with opioids, others with acetaminophen or a non-steroidal anti-inflammatory medication.
Patients in the opioid treatment group got morphine, oxycodone or hydrocodone. The drugs patients in each group received were adjusted based on how their pain changed.
Results were based on what researchers call the BPI, or "brief pain inventory," a medical questionnaire that uses a 1 to 10 scale where higher numbers mean increased pain. Subjects reported on both their pain levels and how much the pain interfered with their ability to move and function.
After a year of testing, researchers concluded that not only was pain intensity better in the non-opioid group, but there were also far fewer adverse drug reactions in that group than among those being treated with opioids.
Because of their nature, opioids carry significant risks, whether of accidental adverse reactions (as were experienced by "significantly more" subjects in the study) or of drug dependence or abuse. Opioids like oxycodone can raise a patient's risk of dying, especially compared with their non-opioid alternatives.
Dr. Erin Krebs, the lead researcher on the study, wanted to learn whether the well-known risks of opioid drugs were worth taking when treating people with certain types of chronic pain, particularly lower back problems and the joint wear and tear of osteoarthritis. This study, the first randomized clinical trial to compare different types of treatments for these types of pain, indicated that opioid risks might not be justified in some cases.
Drug overdose deaths in the United States have risen rapidly in recent years, even so severely that they've led to a decrease in actuarial life expectancy for Americans. Misused or mistakenly used opioid drugs are among the most common causes of such overdoses and deaths.
Many experts believe that cutting the number of opioid pain prescriptions among the U.S. population would be an effective way of reducing both accidental deaths – such as from people unknowingly combining several different pain medications that result in an overdose – and the flourishing illicit drug trade based on abuse of these medicines.