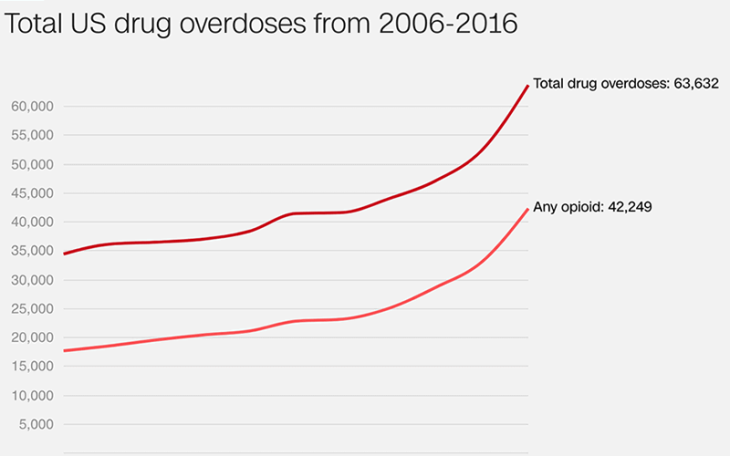 Opioid overdoses are now killing more people than breast cancer each year. Drug overdoses are increasing in the United States, with the 2016 number of drug overdoses 21% higher than the year prior.
Opioid drug overdoses account for two-thirds of the total number of overdoses in the US. Opioids are now killing more people than car accidents (37,400), gun violence (38,000), and breast cancer. Unfortunately, experts believe that the number of opioid-related deaths will continue to rise. Even as experts have sounded the alarm, little headway has been made in curbing opioid overdose rates.
The Midwest remains the epicenter of the opioid epidemic. Ohio, New Hampshire, Pennsylvania, and West Virginia have continuously had the highest rate of overdose deaths. There are 23 states, including the District of Columbia, which have higher overdose death rates than the national average of 19.8 deaths per 100,000 people. An increasing number of overdoses are related to synthetic opioids, such as fentanyl. Since 2013, fentanyl has killed an average of 88% more people each year.
Heroin overdoses are also rising, though not as dramatically. In 2015 heroin overdoses killed 13,000 people. In 2016, they claimed the lives of slightly over 15,000 people. The epidemic has hit both men and women in the 25 to 54 demographics at a disproportionate rate.
President Trump has declared the opioid epidemic a public health crisis. He's tasked government officials to roll out a plan that would curb the crisis across the country. Earlier this month, he revealed some details about the plan, which hasn't gained large-scale support as of yet. Trump's plan recommends harsher sentencing laws for drug dealers and even a death penalty recommendation.
The harshness of the death penalty punishment has come under scrutiny from public health advocates. Experts claim that the drug dealer penalty won't be as effective because big pharmaceutical companies won't be punished for manufacturing and distributing the drugs to physicians and pharmacies.
Most experts believe that tackling the opioid epidemic means coming to grips with the role that pharmaceutical companies have played in manufacturing and marketing these drugs. Physicians also play a role in overprescribing painkillers and other opioids which can form dangerous addictions.
Congress has debated committing additional funds to fighting the opioid epidemic in recent months. Still, there is no political consensus on what to do about an epidemic that is killing over 40,000 Americans a year. If no political solution is reached, then it is likely the opioid outbreak will continue to increase in severity. Public health officials are asking Trump to work more closely with governors in states like Pennsylvania, Ohio, and West Virginia to establish federal health programs to get drug addicts more access to counseling and health care.