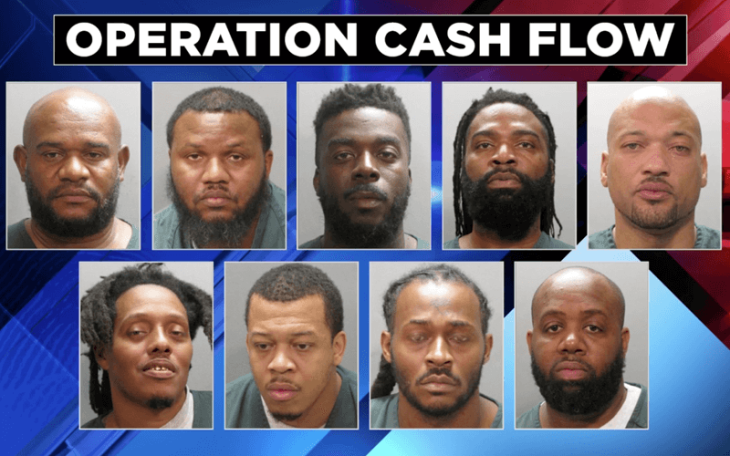 A joint operation in Florida which began in 2016 has seen police seize over eight kilograms of cocaine, two kilograms of fentanyl-laced heroin as well as marijuana, vehicles, and firearms.
Jacksonville Sheriff, Mike Williams, has said that Operation Cashflow, a multi-agency dragnet operation, has taken up to 20,000 potentially lethal individual doses of heroin off the streets of Jacksonville.  The drug bust, which included over $1 million of cocaine and heroin and $115,000 in cash, was described as a major operation and a major victory which led to 11 arrests and will potentially save many lives.
The joint operation between the Sheriff's Offices in Jacksonville and St John County, The Highway Patrol and the FBI and DEA began with a tip-off in mid-2016 which led to the investigation of a large volume cocaine supplier in the College Gardens area.
This investigation began a snowball effect in which detectives working with U.S. Postal Inspection intercepted and seized 521 grams of heroin intended for a man named George Cooper who was subsequently arrested along with an associate, Robert Taylor. A further tip-off resulted in the arrest of three men and the seizure of 307 grams of heroin and $23,000 in cash in Jacksonville, Florida.
Sheriff Williams confirmed that the fentanyl-laced heroin was being sold primarily on the North West side of the City but was evident throughout Jacksonville and that investigation of the narcotics trafficking tied together multiple organizations within Florida.
Operation Cashflow has, so far, seen the arrests of 11 individuals and the Sheriff's Office is currently actively pursuing three other suspects thought to be intensely involved with the narcotics operation.
In addition to the drugs seizures and arrests, the search of a storage unit belonging to Johndre Richo (39) in Jacksonville also resulted in the confiscation of five firearms including a semi-automatic rifle and gold plated Eagle handgun as well as a stash of ammunition for both weapons.  Sheriff Williams explained that weapons and drugs go hand in hand which is why his agency and its partners are so committed to stamping out the trafficking trade in the County.
During Operation Cashflow, arrests were made in Jacksonville, Orlando, Tallahassee, Duval, and Nassau.  Sheriff Williams said that, although he is aware that it isn't the largest drug bust ever made, he believes that it's an important one for the County and its communities who deserve to be able to walk the streets in safety.