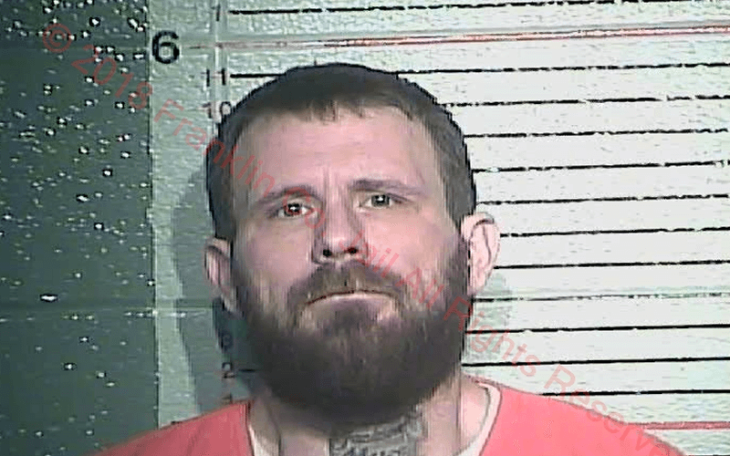 A Frankfort resident is facing a decade in prison after a police raid on his vehicle turned up three different narcotics and thousands of dollars in cash.
A tip-off in July 2017 resulted in Frankfort police seizing 65.4 grams of cocaine, 9.5 grams of methamphetamine, 77 grams of marijuana and $5,900 in cash as well as a large amount of drug-related paraphernalia from a local drug dealer.  On July 2nd, police received a call alerting them to a suspicious individual in a white van parked behind the Independence Bank on Versailles Road. Responding to the call, police found the suspect, 34-year-old Daniel Hinkle, attempting to hide behind the vehicle.  After locating Hinkle, police decided to search the vehicle because there was a strong smell of Marijuana emanating from it.
On first being found, Hinkle, according to Commonwealth's Attorney Larry Cleveland, claimed that he was in possession of no more than a small amount of Marijuana, however, after the search of his vehicle, he admitted that all of the drugs and money found in the vehicle belonged to him.
In addition to the significant drug haul and drug equipment, police also found in the vehicle a broken beer bottle containing $150 in one dollar bills.
The drugs found in Hinkle's vehicle can be broken down as follows:
Marijuana – a Schedule 1 drug derived from the Cannabis plant which is used recreationally for its 'high' as well as medically to alleviate the symptoms of some illnesses, including cancer.
Methamphetamine – a Schedule II drug which is highly addictive and can be can be swallowed, snorted, smoked and injected by recreational users.
Cocaine – a Schedule II drug derived from the Coca plant, Cocaine is used widely across the world for recreational purposes and can be smoked, although most users prefer to 'snort' which is the process of inhaling the drug through a straw straight into the nostril.
After his arrest, Daniel Hinkle was remanded at the Franklin County Regional Jail and indicted on various charges including first-degree trafficking in a controlled substance, possession of a controlled substance, tampering with physical evidence and, first-degree promoting contraband as well as buying or possession of drug paraphernalia.
Figures show that, in addition to Daniel Hinkle, another 11 serious drug offenders in Franklin County have been caught and jailed since 2016 which authorities see as a victory in the war against America's current drug epidemic which kills thousands of people every year.