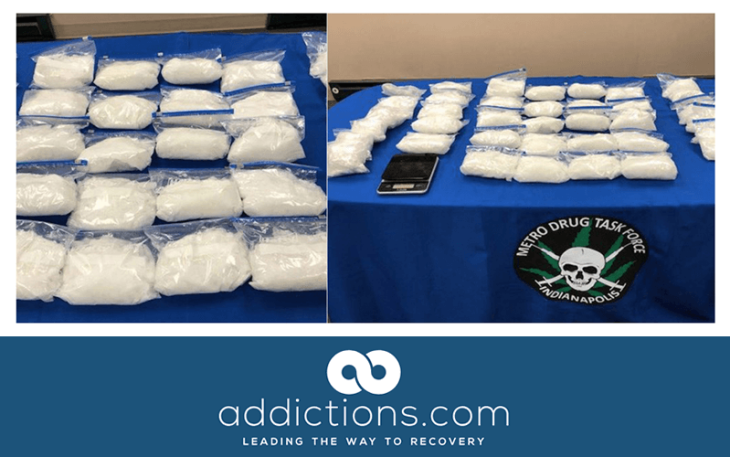 Police in Indianapolis seized over $1 million of methamphetamine from a mother and son drug dealing operation.
Irma Victoria Gomez-Cortez (49) and Michael Olvera-Gomez (20) sold six pounds of methamphetamine to undercover police officers who, after obtaining a warrant, also seized a further 31 pounds as well as three pounds of cocaine from the duo's home.
The arrest by Indianapolis Metropolitan Police Department on the third of April was the result of an undercover operation by the Indianapolis Metro Drug Task Force.
The IMPD who was also involved in the operation, estimate the haul at a street value of between $297,000 and $1.1 million depending on how it is sold and, the cocaine at between $60,000 and $122,000.
Methamphetamine (commonly known as meth) is a stimulant and comes in the form of a white powder, pill or as shiny blue-tinted rocks known as crystal meth.  Brought to the public's attention in hit TV series Breaking Bad, the drug is usually inhaled, snorted or injected or, swallowed in pill form.
Meth is said to induce a 'high' which begins and starts quickly, causing many users to resort to a form of bingeing known as 'a run' whereby they will forego food and sleep while taking the drug every few hours – sometimes for several days at a time.
Meth was the cause of 7,700 fatalities in 2016, an increase of 57 percent since 2014 – over 2000 more than heroin in the same year.
Symptoms of meth abuse include tooth loss or decay, aggressive behavior, open sores, weight loss, premature aging and repetitive behavior.
Both suspects were arrested on preliminary charges (the Marion County Prosecutor's Office will, in time, made a decision) of possession and dealing of a controlled substance.  If found guilty of a Level 2 felony, the pair could face between ten and thirty years in prison each,